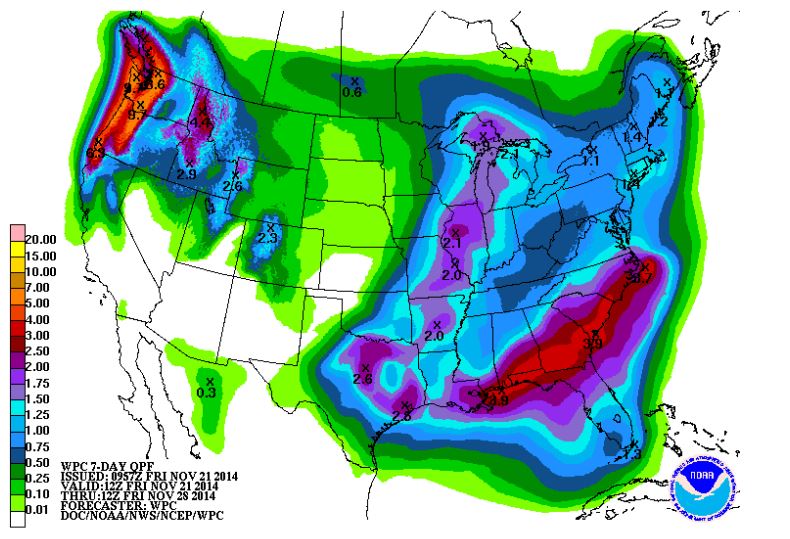 Californians are now looking at something they have desperately been wanting to see for months – rain in the 7-day forecast. The top half of the state is expected to get some measurable precipitation within the next week.
It's not enough to quell an already bone-dry state, but more good news could be on the way. In a report released earlier in November, NOAA's Climate Prediction Center gave a 58% chance of El Niño conditions developing in the Northern Hemisphere this winter. And on Nov. 21, the CPC's three-month outlook included a 33% chance of above-normal precipitation for the southern half of California.
In NOAA's seasonal drought outlook, the agency has marked most of the state as remaining in drought conditions, but improving.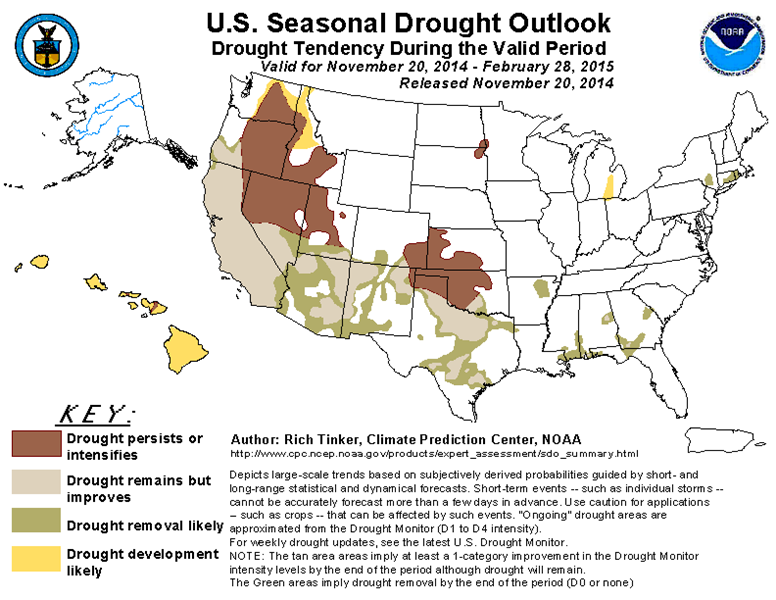 Currently, nearly 80% of California has been categorized as experiencing "extreme" or "exceptional" drought, the highest two categories under the U.S. Drought Monitor. This continues to put a tremendous strain on the state's agricultural industry, explains California Department of Food and Agriculture Secretary Karen Ross.
"The current drought requires unprecedented collaboration between water agencies, state and federal government, and the agricultural community to enhance water use efficiency and be prepared to maximize every opportunity for storm water capture," she says. "As we enter another difficult water year, all Californians need to do their part to use every drop of this precious resource wisely.
The ongoing drought has already caused massive collateral damage in California, including the loss of more than 17,100 seasonal and part-time jobs in the agricultural sector. Additionally, 428,000 acres, or about 5% of the state's irrigated cropland, has been left fallow. The statewide estimated loss stands at $2.2 billion.
California's major reservoirs have also felt the strain. Of the state's 12 major reservoirs, eight are at or below 30% capacity.
"Another drought year will severely impact groundwater supplies, which are an important resource for farm families and communities," says Craig McNamara, president of the California State Board of Food and Agriculture. "As groundwater management moves forward at the local level, farmers and ranchers need to be at the table in helping to reach manageable solutions."
But as Pajaro Valley farmer Stuart Kitayama told KOUW News, farmers are already adapting their management practices – and dramatically in many instances. Kitayama and other area farmers collaborated with the local water agency to build a state-of-the-art wastewater treatment plant. Wastewater used to get treated and drained into the ocean. Now, it's intercepted, treated and pumped back on local fields.
"Unless we solve this together with fairly expansive projects, we're all going to get left out and stuck on our own," he says.
Meantime, California farmers still have their fingers crossed that the 58% odds for El Niño and 33% odds for above-normal precipitation in the southern half of the state pay out later this winter.