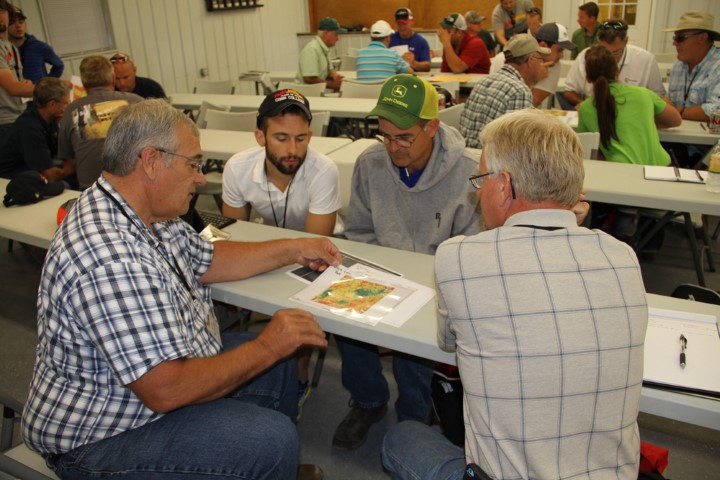 Management zones are a farmer's guide to variable-rate farming.
In the age of agriculture data, it's a shame to waste, and with management zones producers can pull a mass of data from their own land and use the information across multiple parts of an operation – even down to the scouting side.

"The main reason we use management zones is they are a farmer's guide to variable rate farming," says Brad Beutke, Crop-Tech Consulting, Heyworth, Ill. "All our prescriptions – dry fertilizer, fertility, nitrogen, population – are based off our management zone systems."

How does he create, modify and update those zones on an annual basis? The baselines for management zones are created in soil type maps. "Most of the soil maps we see in Illinois are pretty accurate and spot-on. In areas or states without accurate soil maps, other types of data need to be used," he says.

Elevation maps, aerial photos, thermal imagery, and NDVI are all a big part of the mapping program. Yield maps are still important, but aerial imagery is replacing many of them.

At Corn College 2014, Beutke detailed the value of management zones. Rather than go out and randomly grid test, he recommends a plan to make sure samples are pulled from zones with similar characteristics.

"We need to pick out zones that are going to be even in CEC and organic matter," Beutke said. "Why don't most people do it this way? It's a lot more work for the guy in the office and a lot less work for the guy in the field. When I get to the field, it's pretty easy to randomly pull cores because I don't have to set up a grid. But this takes five or six times the effort in the office to get a zone map created."

Good soil maps are the best place to start with great information about slope, drainage and water-holding capacity, Beutke says. GPS-referenced soil maps are available for free online. If a grower is mapping more than three or four fields, Beutke recommends paying a subscription to Surety Maps. Surety is tied into FSA data and allows a farmer with an FSA GPS boundary to enter his farm numbers or click on a field map and automatically get access to that mapped area. That gives a producer a map to work with right away at a low cost.

"For about $300, if you're going to do all your farms, get the subscription and it will save you quite a bit of headache. It will be worth every dollar," he said.

Crop-Tech's management zones are typically in the three to seven acre range. They use slope and elevation to decide where to break up those zones. They also use yield zones, but are careful to eliminate man-made yield zones. "A computer doesn't know the difference between a spot where yield went down because someone made a mistake with a planter, but farmers and boots-on-the-ground agronomists do know the difference," Beutke said.

The process of developing zones begins manually with Beutke sitting down with growers and actually drawing on maps by hand. He starts with a marker and moves on to software. Essentially, by doing it as a manual process, he ground-truths the zones.

What does Beutke say to a farmer that doesn't see the need for management zones?

"The main competitor to the management zone system is the grid-based system and that's what most universities have been promoting. That works if you don't have a lot of background information for the farm," he said. "But if you have the background information, good yield history, good calibrated yield maps, or any aerial imagery, then it's pretty nonsensical to not take advantage of that valuable data. We refer to it as a smart-sampling approach, rather than trying to randomize out in the field. We're trying to remove variables by using the history of the field itself."
Thank you to the 2014 Corn College sponsors:
AgriGold, BASF, Chevrolet, Cover Crop Solutions, FMC, Great Plains Mfg., Precision Planting, SFP, Top Third, Yetter Mfg.