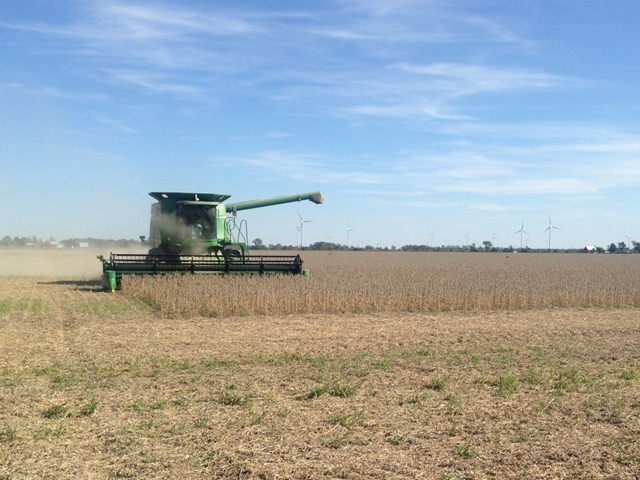 Combines are rolling in many corners of farm country—or at least gearing up for harvest season.
As of Sept. 17, 7% of the U.S. corn crop has been harvested, which compares to a five-year average of 11%. For soybeans, 4% of the nation's crop is harvested, which is on par with the five-year average of 5% by mid-September.
Early yield reports are providing some optimism, says Jerry Gulke, president the Gulke Group.
"Soybeans and corn yields are not as bad as we anticipated a month or especially three months ago," says Gulke in an interview with host Pam Fretwell for the "Weekend Market Report" airing Sept. 23, 2017, on AgWeb.com.
Another pleasant surprise is grain price movement. Following a big price turnaround at the end of August, grain prices have held relatively steady for the lasts three weeks.
"It's good we can see strong prices going into harvest," Gulke says.
Demand for corn and especially soybeans is propping up prices, he says.
"The market is acting like it needs more soybeans," he says. "It's telling South America: Please don't cut back.
"We're building a cushion out there in case one of us does have a bad crop."
Recent weeks have also shown increasing demand from China, specifically that the country wants more corn for ethanol use.
"All we hear is the bad publicity about the massive corn stocks they have in China," Gulke says. "U.S. farmers are probably one of the best in maintaining quality of their grain. I find it hard to believe you can maintain quality in China for three years in corn."
Upcoming Price Movers
On Sept. 29, USDA will release its quarterly Grain Stocks report. Gulke encourages farmers to watch the numbers closely, as a drop in ending stocks of corn or soybeans could further support prices.
Then farmers should turn their attention to the next round of Crop Production and World Agricultural Supply and Demand Estimates reports, which will be released on Oct. 12.
While it's easy to get focused on weather issues that disrupt harvest, Gulke encourages farmers to not focus too much on frost news.
"A frost will just create a financial problem for farmers if we get one in September," he says. "The drying costs will be high when we don't really have the money for the extra drying costs this year."
Gulke Wkn Summary 9-22-17