Two factors have been seen as offering new promise for grain sorghum use: ethanol production and exports, most notably to China. As producers shift around the puzzle pieces for 2015 acreage, the question is whether sorghum will get an additional look given these markets.  

In late 2012, the Environmental Protection Agency ruled that ethanol made from sorghum can qualify as an advanced biofuel if biogas is a main fuel for the plant, leading to greenhouse reductions of 50% or more compared with petroleum. In response, Western Plains Energy near Oakley, Kan., tooled up a plant to use methane produced by digesting waste from a nearby feedyard. 
According to the Renewable Fuels Association, nameplate capacity for ethanol made at plants using sorghum, including those that use both corn and sorghum, is 550 million gallons, or about 4% of the total ethanol nameplate capacity. However, the industry awaits the EPA's decision on the Renewable Fuels Standard, the mandates for blending various types of renewable fuels, for 2014-16. EPA has said it will release levels for three years this spring. It is widely expected that the mandate will not support expansion of corn-based ethanol and will seek to walk a line that encourages production of advanced biofuels but not hurt those who will need to use the fuel by setting the bar higher than production would allow.
However, a new monthly report called Grain Crushings and Co-products Production, provides a new source of data about ethanol grain use. USDA's National Ag Statistics Service is surveying processors and reporting the amount of corn and other grains used industrially. The first of the reports was released in late February. The survey is mandatory and according to NASS researchers, they received data from about 130 processors representing 94% of total capacity. While the initial report includes only three months of data, it raises some questions about how important ethanol use is in the grain sorghum market. 
In November, 2.07 million cwt. of sorghum was consumed for fuel ethanol, December 889,000, and in January, no amount was disclosed for confidentiality reasons—in other words it might reveal one particular company used it. CONVERT? USDA's February WASDE report put 2014/15 sorghum food, seed and industrial use at just 30 million bushels, down from 45 estimated in January and 70 million last year, while increasing exports to 300 from 270 million in the January report and 212 million in 2013/14. These factors don't paint a picture of rapidly growing energy use. Furthermore, while the RFS gives advanced biofuels an edge over corn ethanol via higher value for Renewable Energy Numbers or RINs, in practice, the fuel produced will enter the same stream as corn ethanol and we've hit the "blend wall" at which blenders can only use so much.
Turning to exports, the MIR 162 corn trait ban in China prompted a switch to grain sorghum imports in lieu of corn and even though that ban was lifted in December, Chinese feed mills are still favoring sorghum over corn. China didn't buy U.S. grain sorghum before the 2013/14 marketing year, but purchases ramped up after the MIR ban was announced in October 2013 and 2013/14 sales totaled 4.49 million metric tons (MMT). It has already committed to 5l77 MMT in the 2014/15 marketing year. Of those purchases, 1.18 MMT were purchased during the 2014 calendar year, following the end of the ban on the MIR trait.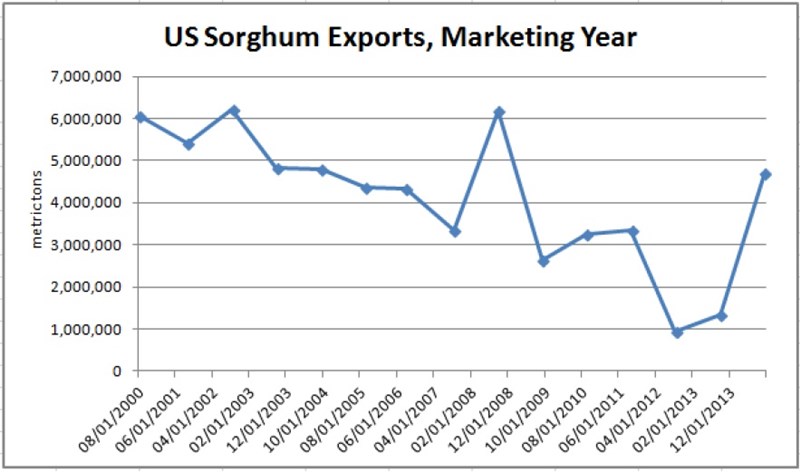 After the Chinese government approved the corn trait in December 2014, corn traders expected a return to corn imports in favor of sorghum.Instead, purchases of U.S. corn simply haven't happened. Weekly net export sales have included 625,000 metric tons but cancellations of much earlier purchases 2.47 MMT. Total commitments of corn for the marketing year, carried on the books for some time, remain at only 91,160. In its daily reporting service Friday, USDA included 120,000 metric tons of grain sorghum for delivery to China, split evenly between the current marketing year and new-crop. This suggests continued interest in grain sorghum for feed use, despite corn availability.
Looking ahead to 2015/16, in its initial look at 2015/16 acreage, released at the Ag Outlook Forum, USDA projected a 5.1% increase in sorghum plantings, while corn is pegged 1.8% lower than last year. Of course it remains to be seen what will happen with acreage, but sorghum supply/demand may need the demand from China if the crop increases.