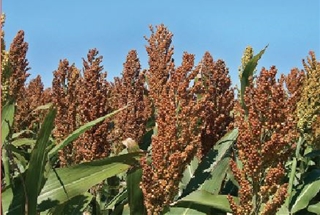 While corn growers may be glum about corn prices, sorghum growers have plenty to be happy about, especially exports.
According to Reuters, grain sorghum tops the list for Chinese grain imports, including soybeans.
Looking at recent data from USDA's Foreign Agricultural Service, you can see that sorghum exports for the current marketing year, which just began in September, are already climbing sharply higher than the previous year and the five-year average.
Right now, it seems the market is sending a message we need more sorghum acres for next year. That's not because of a need nationally, but a big increase of demand internationally.
Listen to the report here:
The United States exported virtually no sorghum to China only a handful of years ago. Today, that country is one of our biggest buyers. "Last year we exported about 177 million bushels on a little crop. That's almost half or a little more than half of the U. S. crop that went there," said Tim Lust, CEO of National Sorghum Producers.
And this year, the country is aggressively buying even more. "Just in the first eight weeks of this marketing year, they have bought a substantial amount of sorghum on pace to be well above even where last year's numbers in sales were," said Lust.
That demand is not just for livestock feed, but most of the crop is going to feed ducks. The rest is to make liquor. "A large portion of liquor in China is made out of sorghum, and so that's a significant market. It's not majority of exports, but some," said Lust.
Since Mexico and Japan are hungry for sorghum too, Lust says we need increased acres next year to meet the demand. "A strong sorghum price and market is just a good opportunity when things aren't as good. In some other crops that they have a strong market and can continue to grow it properly," said Lust.
Lust says the basis for the crop changes every week, but areas like The Texas Gulf Coast and terminal facilities are in good shape. December futures for Texas sorghum is at $3.73, while December futures for corn is at $3.72. "Some are strongest in The Gulf of Texas. The prices are $1.95 a bushel over the board and some of terminal markets in Kansas were 40 cents over corn," said Lust.
It's a good profit possibility for sorghum growers next year, as they plan out acres for 2015.
Lust says one reason China is buying our sorghum now is because the crop is not caught up in trade policy and transgenic issues.