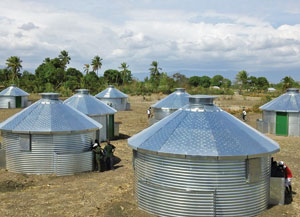 Grain bins provide temporary shelter after a disaster
The January 2010 earthquake near Port-au-Prince, Haiti, left more than 1.5 million people homeless, according to the United Nations. Two thousand miles away, Brett Nelson, who works as an occupational safety director at Sukup Manufacturing Co., heard the news of the devastation and wanted to help.
"My wife and I had talked about building our home out of a grain bin. I know how versatile they  can be, so I thought, Why can't we design a transitional home that is safe and easy to construct in response to emergencies?" he says.
With support from the company's president, Charles Sukup, and chief financial officer, Steve Sukup, Nelson spearheaded the design of a prototype. From there, he worked with various nongovernmental agencies and charities to find destinations for the Safe T Homes. Now, Sukup has at least four sites where its product is used for temporary shelters or homes.
"The whole Safe T Homes project is a reflection of the Sukup family's values," Nelson says. "With their innovation and compassion, it's being proven they are committed to help."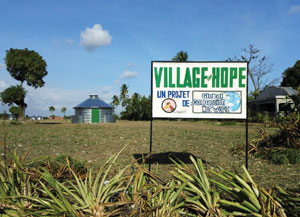 The Village of Hope project, coordinated by the Global Compassion Network, uses 38  Sukup Safe T Homes for housing.
---
The 18'-diameter Safe T Homes are highly modified grain bins featuring 20-gauge sidewalls, a walk-through steel door and two windows that have 16-gauge steel screens for safety and to keep out insects. For additional ventilation, the structure includes a continuous eave vent around the rim, and a perforated steel cupola allows accumulated heat to escape. The roof is made with two layers: one layer of 3" ribbed steel and a top layer of steel that reflects the energy from the sun.
"We've found that it's about 10° cooler in the Safe T Home than outside," Nelson explains. In November 2010, the company donated 14 structures to be used as hospital shelters just outside Port-au-Prince, as well as construction labor. Neighbor to neighbor. The next initiative was part of Haiti's Village of Hope, where the structures are used as temporary homes for families who will
learn agricultural and entrepreneurial skills, then move out when they find employment and adequate housing elsewhere. Then another family can move in. Residents are screened by Global Compassion Network, a nonprofit agency that administers the Village of Hope project.
"When we named it the Safe T Home, I was thinking of the occupants in the tent cities," Nelson says. "They are so vulnerable. With our homes, they can feel secure and have peace of mind.  These homes have meant the difference between life and death, between keeping your children or giving them up for adoption, and assurance in having your family safe all day and night."
Nelson along with three others from Sukup—Nick Sukup, Luke Erickson and Joe Germain—traveled to Haiti in February 2012. Each day about 100 people gathered at their construction site, hoping to land a job building homes. After finding capable workers on-site, they divided into four teams to work on sidewalls, roofing and ballast boxes and built two houses per day. The last of the 11 homes were put up almost entirely by Haitians.
An experienced team of four can put a home up in just a few hours using minimal tools, Nelson says. Even a novice crew can have one built in a day. In addition to the grain bin homes, the Village of Hope features communal bathroom and cooking facilities.
Rapid-response homes. "Our team designed these homes so they can be easily transported and built quickly to respond to emergencies," Nelson says.
Along with Global Compassion Network, Sukup Manufacturing partnered with the Iowa Food and Family Project, an initiative launched by the Iowa Soybean Association; and Meals from the Heartland, an Iowa-based nonprofit that has packaged more than 20 million meals for hungry families around the world.
Currently, there are 38 Safe T Homes in use at the Village of Hope.
In August, the need for ongoing aid to Haiti was amplified in the wake of Hurricane Isaac. After receiving a call about a damaged orphanage outside Port-au-Prince, Sukup employees went there in early September to construct Safe T Homes for the orphanage.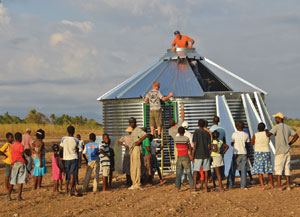 In a day, a 254-sq.-ft. modified Sukup grain bin can be erected to provide safe housing in the aftermath of a disaster.
---
"We built seven homes in two and a half days," Nelson says. "This gave the 46 children of the orphanage a safe place to live. What started out as a project has become more of a passion."
The Safe T Home was recognized by the American Society of Agricultural and Biological Engineers as an AE50 Award winner. The awards recognize outstanding agricultural innovations that have the potential for broad impact. Key to the Safe T Homes' use as transitional housing is the ease with which they can be built.
Sukup Manufacturing is making Safe T Homes available for purchase by not-for-profit organizations for $5,700. The Safe T Homes are designed for any temperate climate.
"We have been so fortunate in that we've had an outpouring of volunteers," Nelson says. "It's exceeded the number of homes we've built, but in many ways there is still so much help needed for the people of Haiti."