The third week of August is always watched closely, as an army of crop scouts journey across the Midwest to sample the size of the corn and soybean crops. Daily news articles, field reports, photos and tweets from the Pro Farmer Midwest Crop Tour cause a flood of information for farmers and markets to digest.
"Traders have been following social media and continue to tally the list of problems and diseases the tour is finding intraday," says Paul Georgy, president of Allendale Inc. "Some attribute any rallies in row crops to traders keying on the friendly spin from this chatter."
Ted Seifried, vice president in charge of the Zaner Ag Hedge Group, says everyone is hanging on every word and every tweet from the crop tour. "For the most part it seems that the corn crop is great, a record breaker but maybe not as great as we were thinking a few weeks ago," he says. "For me, soybeans have been the bigger surprise so far."
Today marks the third day of the tour. Day one findings showed an average corn yield of 182.11 bu./acre in Ohio and an average soybean pod count of 1,342.42 in a 3'x'3 square. South Dakota samples resulted in an average corn yield of 152.71 bu. per acre and an average soybean pod count of 1,057.80 in a 3'x'3 square.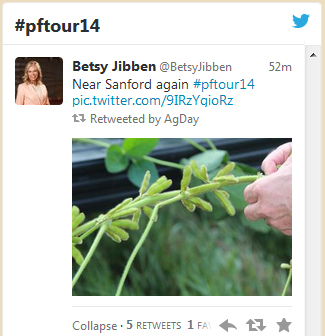 The second day of the Pro Farmer Midwest Crop Tour revealed a corn yield in Indiana of 185.03 bu./acre and soybean pod counts in a 3'x3' square totaled 1,220.79. Nebraska samples showed a corn yield of 163.77 bu./acre, and soybean pod counts in a 3'x3' square of 1,103.26.
Kevin McNew, president of Grain Hedge and Geograin, says today crop scouts will likely see some of the best corn of the entire trip, as they journey into Iowa. "Our models are projecting yields 10-30 bu./acre better than last year along much of today's route," he says. "With today's crop tour is taking scouts through prime growing regions, strong yield potential is likely to cause some social media buzz."
McNew says expectations are for the market to trade lower, as it is pressured from images of high yielding counties. "Price action will be critical to monitor over the next few days," he says. "If we can't trade lower as scout's survey some of the top fields in America, corn may have some more upside yet."
During the tour, which runs from Aug. 18 through Aug. 21, you can stay up-to-date with yield estimates and findings at www.Profarmer.com and www.agweb.com. Later an annual wrap-up summary appears in the September issue of Top Producer. 
For More Information
See full coverage of the 2014 Pro Farmer Midwest Crop Tour, hosted by Pro Farmer.
Follow the tour on Twitter with the hash tag #pftour14.
---