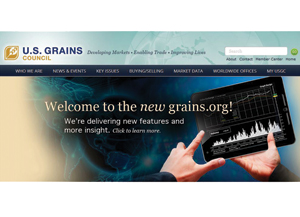 The U.S. Grains Council (USGC), which develops export markets for U.S. barley, corn, sorghum and related products, has launched a significantly enhanced website at www.grains.org.

The site presents the latest news and data relating to the U.S. and global grain trade. USGC vice chairman and Montana barley farmer Don Fast says the new site will help the organization share information with members and interested parties in a more timely, organized fashion.

"News and information is integrated throughout the site, and our new 'Word from the Ground' post offers a place for our staff and consultants to provide insight on pressing issues on a daily basis," he adds.

Later this year, a new area will allow members to renew membership, update information, register for events and download members-only documents from USGC's extensive resource library.