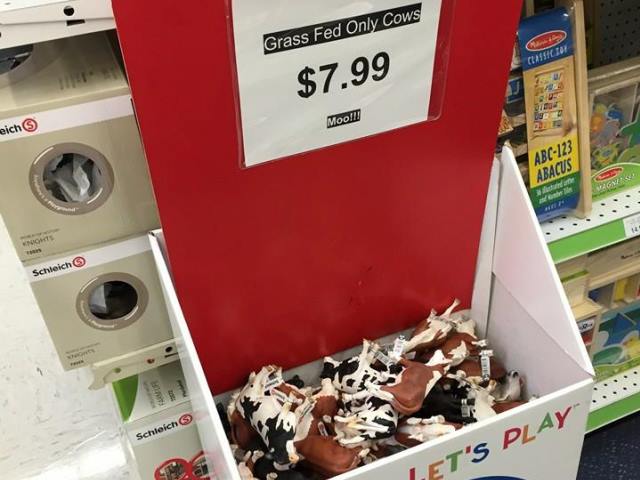 If you've
 got a farm kid who needs a stocking stuffer, these are some toy cows that might have you scratching your head.
At the Toys 'R' Us in Columbia, Mo., there's a cardboard bin filled with plastic toy cows for $7.99. Just above the pricing information on the Holstein and Hereford replicas was an interesting label reading "Grass-Fed Only Cows." 

After seeing a post circulating around Facebook, we tracked down Lorin Fahrmeier who shared the photo last week on her page: The Feisty Farmwife- Lorin Fahrmeier.

Fahrmeier had just started the page a day prior to sharing the picture her friend had snapped while Christmas shopping. The reason Fahrmeier started her own page was to keep people up to date with some of the things she does at the family fruit and vegetable growing operation, Fahrmeier's U-Pick and Produce Market near Lexington, Mo.

"It was funny how viral that photo has been," Fahrmeier says. As of midday Dec. 16, the image had been shared 154 times and reached 41,137 people on the social media site.

Here's a sampling of some of the comments that were left on the Facebook post:
"Where is the box with grain-fed cows?"
"I bet grain-fed plastic cows are only $4.99."
"I want to know if they are propyprolene and BPA-free!"
"How does Toys 'R' Us know that plastic cows are only fed grass? Have they been in control of them their whole lives? . . . Inquiring minds want to know!"
"It's kind of hard to find Hereford (toy) cows…maybe I haven't been shopping in the grass-fed plastic cow department."
"Well, them there dairy cows in there aren't going to put out much milk, huh."
Fahrmeier and her husband traveled down to Columbia on Sunday and were able to see the "Grass-Fed Only Cows" with their own eyes.

"It's just really hilarious," Fahrmeier adds. She thinks someone at Toys 'R' Us must have a pretty good sense of humor to put up the tongue-in-cheek sign. "That's what I'm hoping it is."

When searching the Toys 'R' Us website there is no mention of the grass-fed, or even grain-fed, toy cattle. Fortunately, all of the plastic cattle we could find had appropriate breed and sex descriptions like this Angus bull.

Still, these "Grass-Fed Only Cows" have us wondering if someone at Toys 'R' Us might be related in someway to Buddy The Elf:
What crazy farm toys have you seen this holiday shopping season? Let us know in the comments.