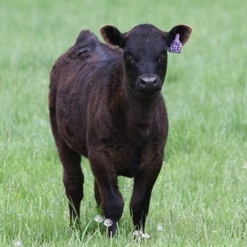 There's a tinge of green in the grass throughout the Central Plains this week, and cattlemen welcomed the sight by raising their bids on grass cattle. Stocker and feeder cattle were called unevenly steady to $3 per cwt. higher for the week, though prices on popular weights leveled off after last week's rally.
"The average price for 6-weight steers in the South Central Region and for 5-weight steer calves throughout the Southeast was slightly lower," says USDA Market News reporter Corbitt Wall. "Softer fall-born new crop calves are making their way onto the scene and widening the price spread against the rugged old croppers. Nevertheless, most top quality 600-pound steers with a longtime weaned and lightly fleshed condition that is suitable for grass yielded prices north of $2 per pound near the major grazing regions."
Wall notes the tight supplies of grazing-ready stocker cattle.
"Grazers know that if these cattle are ready to hit the ground gaining on pasture, that there may still be room for profit if they can get possession for less than $1,300 per head and spend less than $100 for their summer rent," Wall says.
Fed cattle sold mostly $2 higher from $150 to $152 in the South, and $152 to $154 in the North. Cattle on a dressed basis sold $2 to $3 higher from $244 to $245. Feedyards are described as very current as they have pulling cattle ahead all winter.
Boxed beef prices Friday morning averaged $233.46 down $3.45 from last Friday. The Choice/Select spread is $5.95.