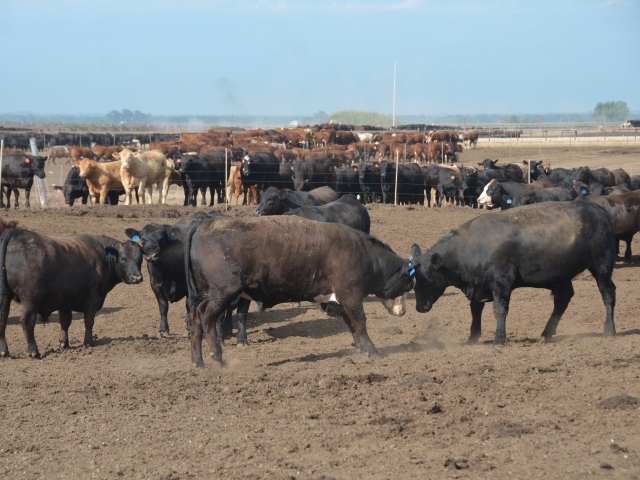 For most of his life, Bob Foote, owner of Foote Cattle Company in Kansas, has been in the cattle feeding business. Volatility is nothing new to him, but 2016 has been one of his most challenging years yet.
"Three years ago was probably the best year we ever had, and we went down since then," he said.
The price peak may be in the rearview mirror, as the wet blanket today is an oversupply of protein.
"The story is pretty well known," said Alan Brugler of Brugler Marketing. "There's just too much meat out there."
"Following 4 to 5 percent increase in beef production this year, we're still going to be looking at another 2 to 3 percent increase in beef production in 2017," said Don Close, RaboBank Protein Analyst.
Now that we're entering the final days of 2016, things are looking up.
"We actually think that cattle feeders are placing cattle today that have a substantially improved profit opportunity in 2017 over what's transpired in 2016," said Close.
He said the number of feeder cattle imports from both Canada and Mexico declined this year, which is helping offset the increase in domestic production.
The weekly Sterling Profit Tracker has been mostly red this year, but the latest report for the week of November 25 showing green, with $52 per head gains. That's quite the reversal from the $51 per head losses feed yards saw last month, and the startling $486 losses that cut deep in 2015.
It's record carcass weights that pushed feeder prices down in 2015. Close said while average carcass weights are below year ago levels, it's still above the 5-year average.
"One thing producers could do to help reduce that escalation in beef tonnage, is simply start selling cattle at lighter weights, try to move these cattle out a little ahead of time and provide less tonnage on the market," he said.
Beyond supply, cattle producers know they need more demand, and thankfully, now is the season for people to buy beef, with more interest from consumers in middle meats. Analysts like Close and Brugler think short-term, we've found a floor after being heavily oversold.
"That's still not to say we're not going to see some swings in prices in 2017, but we do think we're working from a price level that will provide more stability and a better marketing environment that what we've seen this year," said Close.
While the bottom may be in for now, long-term, the picture is bleaker.
"I think long-term, the cattle cycle says we're still expanding cattle numbers, you'll probably sometime by 2018 go down to $80," said Brugler. "I think cattlemen need to understand that. If the cycle continues, there's more to come.
Brugler said that's largely dependent upon pork and poultry. If those sectors cut back production, cattle may not dip that low, but it's a startling projection for which producers need to prepare.
"You've got to look hard at your operation," said Brugler. "Should you be expanding, or should you be cutting back? Particularly on the cow-calf side of things."
Close is hopeful the large price gap between live cattle prices and retail beef prices this year will tighten.
"One thing that would help more than anything is if we would finally start to see an easing of the sticky retail beef prices," said Close. "The lower prices will encourage more consumer spending, more purchases of beef that would be a huge benefit in getting this tonnage cleared in the market."
While the outlook for 2017 is better, Foote is taking in it in stride, hopeful the worst is behind him.
"It's not going to be no 2014 when we had a windbanger with outstanding profits, but we're going to be alright," said Foote.
With three sons part of the family feed yard business, he has simple advice for young producers still trying to push through: hang on, as the situation will improve.