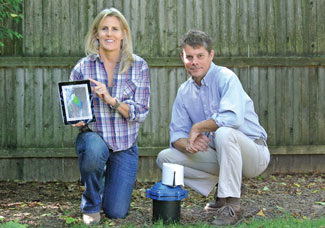 New well technology offers up-to-the-minute monitoring of water supply
Twelve million private wells on farms and homes across the U.S. could be a data gold mine that offers farmers vital groundwater information. Wisconsin startup Wellntel, led by co-founders Marian Singer and Nick Hayes, has developed a sensor system that allows farmers to observe groundwater levels across an entire operation and see water impacts as they happen. 

Traditionally, a technician must measure water levels using special equipment and then seal the well after taking a reading. That data is soon out of date. However, Wellntel is designed to tell the story of a well through continuous operation, offering farmers vital data based on recharge ability and aquifer levels.
The battery-powered Wellntel sensor sits atop many types of irrigation wells and doesn't touch the water. Using specialized sonar technology that penetrates through infrastructure obstructions, it reads water levels as a submersible pump is running. Every half hour, it measures the static water level, where the level is during pumping and how long the well needs for recovery. This information is then sent to a secure website, where the farmer has private access to the data and can see how a well is performing. 

The frequency of data allows a farmer to watch the recovery of a well—whether it's slow due to a strained aquifer or quick after a timely rain.

"All the trends—seasonal information and diagnostic data—are available. We've a built a system aimed at simplicity that lets a user create alerts," Hayes says. "For example, 'Send me a text message when I get to within 10' of my pump in normal draw-down mode.' The alerts are a call for attention and are delivered through email or text."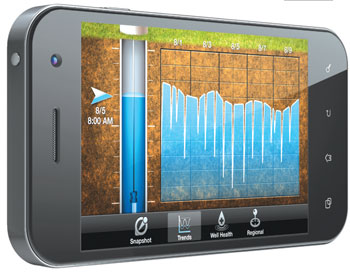 Farmers can access their water level data through a secure Internet website and create text message and email alerts.
The farmer or landowner has control of the data and can choose if they want to share it. Trends for a particular area or state will be available, but specific well data and locations will be controlled by the farmer.

In the U.S., little is known about groundwater availability. Singer says Wellntel data has the potential to create a groundwater weather map that shows the supply side of a farmer's groundwater system when it launches commercially in December 2014. 

If a farm has groundwater today, but loses it tomorrow, the property value turns to dust. "If you have a 2,000-acre cotton farm with dry wells or a 2,000-sq.-ft. house with a dry well, you're in trouble either way. Putting this information into the hands of the people who carry the highest risk is the right thing to do," Hayes says.