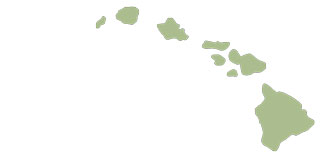 Oddly, cow comfort takes more effort in paradise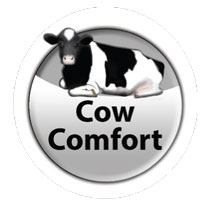 Look for the Cow Comfort logo in this issue to see innovative ways to raise more productive cows.   
Vacationing on an island paradise is what most people think of when Hawaii is mentioned. For Derek Whitesides, dairying in Hawaii has been a land of opportunity and learning. 

"It is a lot different than dairying on the mainland," he says.

Whitesides is a partner with his father, Steve, who founded Whitesides Dairy, a 6,400-cow operation in Rupert, Idaho. In 2012, the Whitesides expanded their operation by acquiring a 1,000-cow dairy on the island of Hawaii.

After purchasing their Big Island Dairy, the Whitesides decided several changes needed to be made in how cows were cared for. To start with,  more than 60% of the milking herd was grazing on pasture. Dry cows and heifers were also on grass.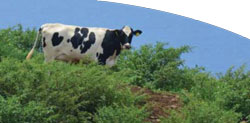 While on pasture, cows had a nice view of the ocean at Big Island Dairy, but lameness and constant rain motivated the decision to move the herd inside.
"It's really hard from the dairy cow side of things because you have to go out and get them all of the time," Derek Whitesides says. "Cow comfort was a big bottleneck for us being out on pasture."
At first, cows had to walk uphill from the pasture to the parlor to be milked. Cows often walked through rocky areas that increased the potential for hoof and leg issues. Also, cows were spending too much time on their feet waiting at the outdated parlor, which also reduced the time they could spend eating. A freestall barn was available, but it only had room for about 300 fresh cows. 

Whitesides began making plans to add two new freestall barns and a new milking parlor that could handle 2,000 cows. During the process, Riley Smith was hired to be the herdsman for the operation.

The new facilities will go a long way towards correcting many of the production issues that came with the 
preexisting facility, which had waterbeds, Smith says.

"The cows don't like to lie in waterbeds. They all lay down on the rubber mats in the alleys—and these are flush alleys," he adds. When the alleys flush, the cows get soaked, and that can lead to even more problems with mastitis.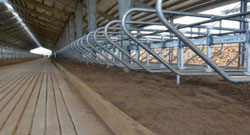 The new freestall barns are bedded with 6" of compost.  
In July, cows entered the first new freestall barn. The second barn should be finished in November. 
The stalls in the new freestall barns are bedded with 6"-deep compost. The compost beds are replaced three times per week and fluffed up while cows are in the parlor with a hydraulic skidsteer attachment.

While sand would seem like a natural fit for bedding in Hawaii, it was actually cost prohibitive because there is a limited amount available. 

"Compost is our only resource for bedding here. You can't get straw, there are no wood shavings and sand is very expensive," Smith says.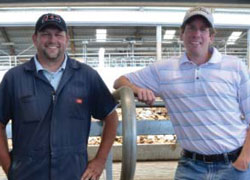 Left, Riley Smith, dairy manager, and Brad Duff, general manager of Big Island Dairy, look forward to moving the entire milking herd into new freestall barns this fall.
Whitesides and Smith were both worried the cows would have trouble acclimating to the new bedding, but the cows appear to be enjoying their new homes. 

"They actually took to that really fast; there wasn't really any adjustment to it. It just worked," Whitesides says. "The cows love it."

Soaking up rays of sunshine at the beach may draw tourists to popular spots like Waikiki Beach. But on the east side of Hawaii Island, rain can be just as constant as the sun.

In 2013, the dairy received 18" of rain in 24 hours; the following weekend 13" of rain fell in 12 hours. In a six-month period, the farm had 124" of precipitation, Smith estimates.

"Just getting those cows out of the rain will be a 100% improvement," Whitesides adds. 

While the rain may be a drawback, temperatures do stay relatively mild with lows averaging 60°F and highs settling around 80°F. Eastern trade winds also provide great air flow, so additional cooling is not needed in the barns.

"At the end of the day, we're going to be out of the weather, and the temperatures are perfect," Whitesides says. "So far that's gone as expected."

Cows in-milk will now be better maintained thanks to the freestall barns. Dry cow management is easier,
with a sheltered area for feeding while the cows can still graze. Heifers can develop more productively with the addition of several bunk feeding alleys with access to pasture. 

The first few years of dairying in Hawaii were somewhat trying for Big Island Dairy. But with the reinvestment in facilities and cow comfort, it looks like brighter days are ahead.

"Overall I think it has been a good experience; it has definitely been a learning experience. It is more difficult than we thought it would be," Whitesides says. "With the barns, things are getting a lot easier."  
---
Hawaii Dairy Renaissance
Hawaii's not just a tourism paradise, it's a land of big possibilities for the agriculture industry, especially dairy. 

Derek Whitesides and his family saw the potential when they purchased Big Island Dairy in 2012. Only one processing plant and one other commercial dairy are currently located in Hawaii. 

The majority of fluid milk comes from California, which captures an inflated price at the grocery store because of the additional transportation costs. During the first week of July, milk prices were more than $6 per gallon at several Hawaiian supermarkets.

"Our production is about 15% of the Hawaiian market right now, and we'll probably double that to about 30% thanks to our on-farm expansion," Whitesides says.
Thirty years ago, Hawaii's dairy industry met 100% of its fluid milk needs. In 1985, as milk imports began, the state lost its sustainable system.

On the island of Kauai, a group called the Ulupono Initiative aims to milk 650 cows in a New Zealand-style, grass-based dairy. Hawaii Dairy Farms could milk up to 2,000 cows if it transitioned to a more confined operation, but there has been pushback from neighbors.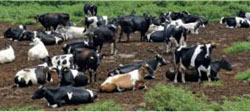 In a tourist-populated area, some pushback on agriculture operations have deterred the growth of the state's dairy industry.
Ulupono Initiative general partner Kyle Datta voiced his concerns in a guest column in The Honolulu Star-Advertiser:

"Local food operations as diverse as our grass-fed dairy on Kauai to farmers on the Big Island are being sued by their neighbors, who themselves are on what was once agricultural land.

"If we allow a resort on reclassified agricultural lands on Kauai to demand buffer zones miles away from its property—affecting even Important Agricultural Lands—there are serious implications to Oahu and Maui, where development and agriculture are in closer proximity. Most of the prime agricultural lands in these counties will vanish." 

Fortunately for Whitesides, the local governments on Hawaii Island have been very supportive of agriculture. "They want agriculture to be sustainable in Hawaii," Whitesides says.
To read more about Hawaii's ag industry and a blog 
about Big Island Dairy's construction, visit http://www.DairyToday.com/Hawaii