Transition planning requires mountains of documents
Bonus Content
---
Before you can lay out a road map to the future, you have to know where you're starting from. For farm transition planning, that means documents.

Lots and lots of documents: Bank statements. Loan application forms. Cash flows. Balance sheets, listing both owned assets and owed liabilities. Retirement accounts. Roth IRAs. Wills. Land trusts. Insurance policies—health, disability, liability, life.

Pulling all these files together is a tedious, time-consuming task. They're all in different places, with lenders, CPAs and attorneys.

Brothers Greg and Jim Moes had their first meeting with Farm Journal's Legacy Project team on June 29. It is now Oct. 11, and Jim, Greg and Greg's wife, Julie, are still scrambling to forward all the needed documents to the planning team. They vow to have everything out by Friday, Oct. 15.
The promise is that if they succeed, the Legacy Project planning team will have a preliminary transition plan back to them by Nov. 1.
The Moeses understand the importance of having these documents in place. "When we tried to do transition planning before, we'd get to this point and not get any further," Greg says. This time, they are determined to push forward through the barrier of paper.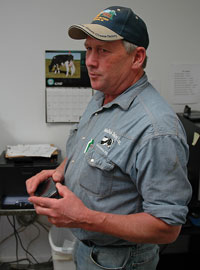 Greg Moes, his brother Jim and their families are trying to transition land ownership from their mother and siblings to the next generation.
In addition, they will have to give each of their financial advisers permission to speak about their finances with the Legacy Project team, which is based in Chico, Calif. That access is needed for the planners to have a complete understanding of the Moeses' business and personal financial situation.

"When we start making recommendations, they will be based on facts—cash flows, budgets and how the business actually exists," says Kevin Spafford, Farm Journal's succession planning expert.

"We can't make pie-in-the-sky recommendations and hope that things will turn out OK. Our job is to help the Moeses achieve their succession goals without sacrificing the security of the family in the process. We base everything on what the farm business can actually support," Spafford says.
In the meantime, Greg and Jim will visit with their mother and a sister to better prepare them for what's coming. They've already shared the Dairy Today stories on their situation that were published earlier.

One of the sticking points in the transition is that their mother, Eileen, owns several quarters of land the brothers operate east of Watertown, S.D. Another huge chunk of land is held in a family trust, with their nine siblings named as heirs to specific quarters of land.

Buying their mother and siblings out in one fell swoop would be a challenge. The brothers are already stretched thin, paying back loans on a $10 million dairy facility that Greg refers to as their retirement plan. "Our 401k is sitting here in the middle of a field filled with cows," he quips.
A further complication is the very real threat that estate tax exemptions could fall from $3.5 million per person to $1 million on Jan. 1. Any farm transition plan will have to take that possibility into account.

It's clear that the sooner the Moeses can get those papers to California, the better.