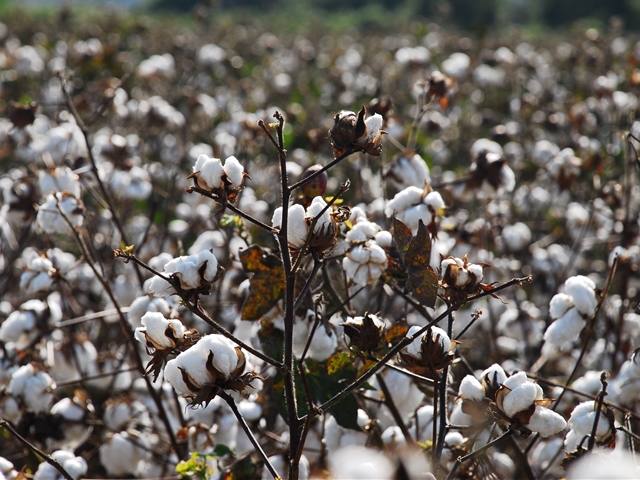 By Tom Vilsack
During my seven years as Secretary of Agriculture, USDA has been a strong, staunch supporter of U.S. farmers and ranchers—through thick and thin, good times and bad. Our producers support one of every 11 U.S. jobs; provide U.S. consumers with more than 80% of the food we consume, ensuring they spend less of their paychecks at the grocery store than most people in other countries; and support markets for homegrown renewable energy and materials. You, our producers, are vital to our economy and the fabric of our nation.

Today, after several years of high commodity prices and strong domestic and foreign demand for U.S. farm goods, cotton and many other major commodities are experiencing lower market prices. Although we've started to see farm income slow and household income begin to tick up, USDA will continue to use our full programmatic authorities to assist where we can, however we can. 

Just before the holidays, I received a request from the cotton industry to designate cotton as an "other oilseed" in order to qualify for Agriculture Risk Coverage (ARC) and Price Loss Coverage (PLC) payments. 
We examined the laws closely (the 2014 farm bill, the 2016 appropriations law and other authorities) and determined such a designation is not authorized under the 2014 farm bill. The reason is clear: The farm bill expressly removed eligibility of cotton for such payments, as cotton is no longer listed as a "covered commodity." In other words, the farm bill intended to exclude cotton from ARC and PLC payments and USDA was provided with clear direction it would not be included or covered. Instead, at the request of the cotton industry, the farm bill created two new programs as an alternative to ARC and PLC: the Stacked Income Protection Plan (STAX) and the Cotton Transition Assistance Program (CTAP).

Despite these limitations, USDA is providing ongoing assistance to cotton producers through several programs.

While STAX payments will be calculated and made early this summer, USDA has already disbursed more than $1 billion in crop insurance payments to cotton producers in 2014 and 2015. Since 2014, USDA has provided more than $2 billion in safety net support and nearly $3.5 billion in credit. For example, marketing assistance loans (MAL) and loan deficiency payments continue to provide a price support and credit function for producers. More than 7.9 million bales with a loan value of $2.1 billion were covered by MALs in 2014 and more than 4.3 million bales worth $1.1 billion have already gone under loan in 2015. Although cotton is no longer a covered commodity, cotton producers received more than $246 million in ARC and PLC payments related to other crops on their farms this fall.

In addition to this assistance provided through the farm bill, USDA provides support to struggling cotton producers in other ways. Historically, USDA has provided temporary assistance to cotton producers facing low prices through a congressional action or administratively used Section 32 (of the Act of August 24, 1935) or Section 5 of the Commodity Credit Corporation Charter Act. Unfortunately, these options have been severely limited by the law that funds the government, also called the Appropriations Act.
Knowing our tools to provide assistance have been severely limited, I have asked Congress to examine the appropriations language to see if they could grant USDA flexibility through legislative action. Outside of that option, we will continue to work closely with the cotton industry to explore other avenues of assistance within USDA's existing authorities.

We want to help, and we will continue to examine all options for assistance and make those options available to cotton producers. 
What do you think about this issue? We'll continue the discussion in the next issue of Farm Journal. Please send your thoughts to [email protected]