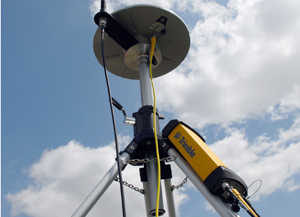 The days of physically steering a tractor to keep it on course are old school. Based on the number of automated steering systems available, there is an option that fits your specific farming needs and your pocketbook.

Six years ago, Farm Journal published a table of all the available steering systems on the market. At that time, there were approximately 30 systems. Today, 14 manufacturers offer more than double that number when you tally all of the configurations and accuracy options.
Stronger signals. One of the most recent developments is that automated steering systems can tap into more than just GPS, since Russia launched its satellite system, GLONASS.

Between GPS and GLONASS, more than 40 satellites provide farmers with service. In addition, Europe is developing its new system, Galileo, though no operational date has been set.

"That means farmers will have better accuracy and less chance of disruption and dropout in the field," says Marlin Melander, AGCO technology marketing specialist.

Automated steering systems are increasingly more sophisticated. "Look for the trend to adopt this technology to continue, particularly with the higher-end steering capabilities like RTK," notes Ryan Molitor, a marketing supervisor for Raven Industries.

The price tags for auto-steer tools typically correlate with the level of precision. Low-end systems start at $5,000; a high-end RTK system can exceed $25,000.

"When automated steering systems first started catching on, the idea was that farmers would try it at the lowest accuracy option and a few would upgrade over time," explains Erik Ehn, Trimble product manager. "But as it turned out, accuracy is even more addictive than we thought it would be."

High-end RTK systems can track pitch, roll and yaw; they offer a complete set of automatic steering patterns, accuracy options and software. Several offer color touch screens. Some provide free service packages and, in a couple of cases, remote diagnostic capability.

Ehn points to two reasons for the increased farmer demand for high-level accuracy: utility and accessibility.

"Farmers have realized accuracy opens up many possibilities, so they can get more out of their auto-steer investment than just steering straight lines across the field," he says.

To reduce fatigue and overlaps, farmers can achieve hands-free steering via WAAS, a free satellite signal with 1' pass-to-pass accuracy.

Manufacturers are encouraging farmers to think ahead to determine whether the system they choose can be upgraded for more complex tasks.

RTK correction signals are widely available without the need for a personal base station thanks to a boom in cellular network-based RTK correction. 

Another advancement is rapid adoption by some manufacturers of GPS signals provided by the Continuously Operating Reference Station (CORS) network. CORS is a cooperative undertaking of government, academic and private companies. The CORS network contains more than 1,450 stations, contributed by 200 different organizations.
The future. One continued complaint from farmers is that companies are making slow progress toward developing features with interconnectivity.

"We're trying to play together in this world of ag electronics, and we're getting there, but it may not be as fast as what some farmers want," says AGCO's Melander.

As automated steering becomes commonplace, says AutoFarm marketing director Deane Malott, farmers see machines with hands-free components, such as steering valves, sell standard on some equipment. 

Other future developments farmers can expect are improved applications for swath steering and windrowing.

Some manufacturers have upped the ante with their competition by providing remote diagnostics.
"Your dealer might have a replacement part before you notice you even need it," says Sarah Davis, a marketing specialist for John Deere Ag Management Solutions.

Bottom line, Davis says, visit your machinery dealer. Some have demo systems you can try and calculators to help you assess the financial feasibility of investing in the technology.