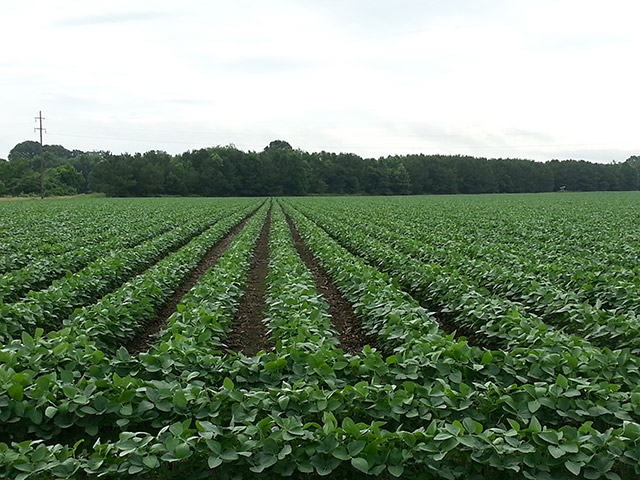 The crash of the Brazilian real this week sent old-crop soybean prices about a dime lower for the week after being down nearly 30 cents on Thursday. New-crop soybeans were about 8 cents lower for the week, says Jerry Gulke, president of the Gulke Group in Hinsdale, Ill. Corn closed the week about a penny and a half higher. Now, the market wants to know what to expect from U.S. soybean acres and exports in light of currency fluctuations for the dollar.
There is "the potential now for a further increase in soybean acres due to the weather and an additional decrease in corn acres over what USDA reported March 31. To what extent is speculation, and that's what traders are all about," Gulke tells "Weekend Market Report" host Pam Fretwell for an episode airing Saturday, May 20, 2017. "In the background, the U.S. dollar dropped significantly on Friday for a huge lower close for the week. Our U.S. dollar index closed lower than at any time since [President Donald] Trump got elected. That's good for our competitiveness for both ag and non-ag products and helps support our export market."
Meanwhile, dry weather patterns in the northern Corn Belt and storms elsewhere are leading some to question whether corn and soybeans can post yet another year of record-topping yields.
"In corn, of course, you could make a case that it's probably not 170.7 [bu. per acre] again, though the people in Iowa would tell you we've got a good crop growing. I think people in Missouri and Illinois and Indiana are saying maybe not so much, and it's dry in the north," Gulke says. "South Dakota is dry, parts of North Dakota are dry. If you look at it and say we drop yields 3 or 4 bu., which would still be a good yield based on historical standards, and lose 1 million acres of corn, maybe we concentrate on harvested acres being down because some of those acres that are flooded won't get replanted or harvested."
It's possible the challenges farmers have faced in planting corn will result in higher soybean acres. But other scenarios also are possible, Gulke points out.
"If you affect the yield because maybe we can't get them planted or soybeans don't like wet feet in a lot of places, or too dry in the north, you don't have 48 bu. yield, you've got 46 or something like that. Now that negates some of that increase in soybean acres," he explains. "I think that's part of the reason why, prior to the Brazilian thing … there's some nervousness about will we get the soybeans planted? We've heard that from people trying to replant corn. If they can't replant corn, they probably can't get in the soybean field, either, to plant the soybeans. … I think the market's looking at can we get another repeat of a record yield in soybeans as well as corn, whatever acres we plant, and I think that's doubtful."
Gulke 5-19-17 Weekend Market Report