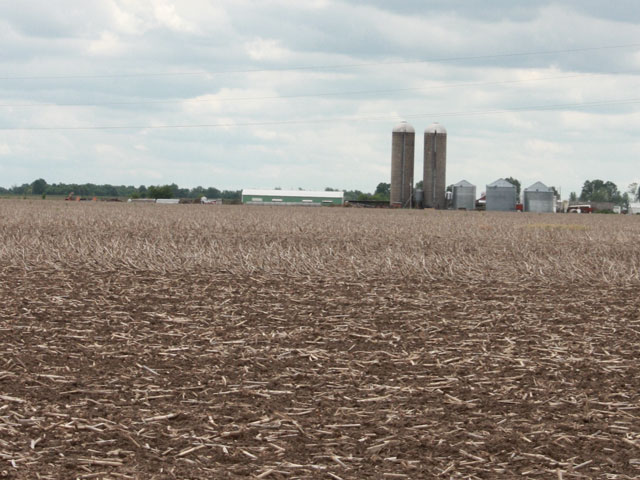 As he drove through parts of northern Illinois this past week, President Jerry Gulke of the Gulke Group says he was "totally shocked" at the high number of unplanted corn fields. Those visual cues, plus a rain system headed into the Corn Belt during the week of May 14, could "put the nail in the coffin" on corn and force farmers in key states to switch to soybeans.
"DeKalb County the other night when it was raining looked like the potholes of Minot, N.D.—just a lot of lakes, a lot of stuff underwater," Gulke tells "Weekend Market Report" host Jo Windmann in an episode airing Saturday, May 13, 2017. "Not very much planted there, a lot of vacant land. But as we got further west to Route 39, which goes from Rochelle, Ill., through to Rockford, that corridor was surprisingly terrible. Just not a lot of anything planted."
The findings suggest some analysts need to reexamine their projections for row-crop acreage.
"Originally, [Gulke Group] came out with our number at 89.5 million corn acres. I think it could approach 87.5 million when we're done," Gulke says. "We looked at 92 million acres of soybeans and the government said 90 million. I wouldn't be surprised if we exceed that. Our numbers actually were higher than that. We trimmed them back. When it's all said and done, we'll be forced to do soybeans."
Farmers that have expanded rapidly with cash-rented land in recent years need to be especially careful, Gulke cautions. He said he recently visited with a longtime banker who, for the first time, expressed pessimism about farmers' financial position in the challenged ag economy. The banker noted some producers have too much debt and don't have enough money to plant corn or run a good hedge account for soybeans. Those factors could spell trouble unless corn rises above $4 per bushel and soybeans approach $10, Gulke says.
Some farmers might argue they've reached a new normal, having produced 200-bu. corn on ground planted in early June in the recent past.
"I doubt it," Gulke cautions. "I think we're probably in for one of those rude awakenings."