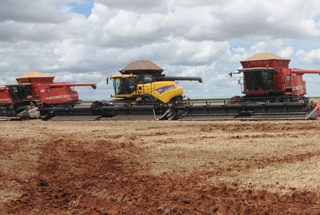 Jerry Gulke sees more than a few parallels in the current Brazilian soybean situation.
"It's déjà vu all over again," says Gulke, president of the Gulke Group in Chicago. "We went through this last fall, in October, when the market was expecting a lot of beans coming to market because of the late harvest and didn't get them. We didn't get the piles [of beans], the farmers dumping them. Now we are seeing that in South America."
Just like in the U.S., farmers in Brazil and Argentina are holding on to their soybeans, waiting until the price is right for them to sell.
"I think both the U.S. farmer and the South American farmer is getting a little bit smarter," Gulke says.
Listen to Gulke's full analysis here on Farm Journal Radio:
Of course, right now the two groups are at very different times in the cycle. In Brazil, it's harvest season, but in the U.S., farmers are focused on price guarantees and planting decisions.
With February at an end, many are waiting for the final crop insurance price guarantees to be announced.
Gulke, not surprisingly, has been watching the numbers closely. He expects December corn to be priced around $4.14, "plus a volatility factor" and soybeans to be $9.66, "give or take a penny."
"Nothing gives us much incentive to plant either one. I tend to lean toward the bean side since because the demand for beans seems to be better than corn," Gulke says. "This may be the first time we plant more beans than corn."
What do you expect from the markets in 2015? Give your opinion on the AgWeb discussion boards.