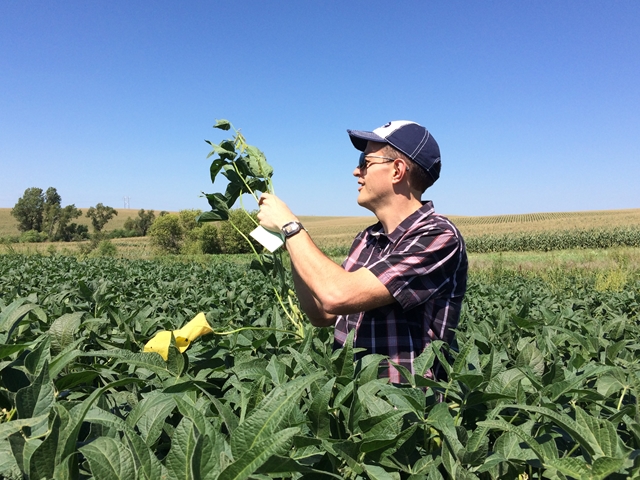 Next week's Farm Journal Crop Tour will shed new light on corn and soybean conditions across the Midwest, even as commodity prices continue to slide, says Jerry Gulke of the Gulke Group. If scouts find conditions to be less optimistic than USDA projected earlier in August, it could mean the marketplace already has seen the largest production numbers of the 2017 growing season.
"Let's hope it's positive," says Gulke, describing potential market reaction to next week's findings in a "Weekend Market Report" segment with host Pam Fretwell airing Saturday, Aug. 19, 2017. "Goodness sakes, if they come out of those fields and say you know, maybe the government's right after all, that's not going to look good. And then you can look back and say we've seen highs now going into harvest and there's no hope unless we get an early frost."
This week, commodity prices continued to evaporate on reports of rain across U.S. growing regions as far north as North Dakota, where drought conditions have been pronounced. Soybeans fell roughly 10 cents on the week, while corn fell 10 cents, and wheat also closed down. Wheat notched new contract-low closes, while December 2017 corn made new lows for the year.
"That's not a good sign," Gulke says of corn. "That just says the market's trying to brace itself probably for a crop bigger than anybody had hoped."
But don't rush to judgment, he cautions. Gulke suspects conditions in the field aren't as pristine as the government might think.
"Crop ratings show that things are bad in some areas," he points out. "Every year on the internet, you always see … the poor pollination and the short ears. Every season, the good stuff, people are kind of embarrassed to show that on the web. But they ought to find some of that. Certainly from northwest Iowa to southeast Iowa, that vein where even the crop monitor shows where things are moderate to severe drought, they should see that. They should come up with some yields, and they'll also go to northeast Iowa, where probably the crop is as good as it's ever been."
Gulke continues: "Across northern Illinois, I think we're sitting in the banana belt of the world here if we come to maturity. Things look very good, better than last year in northern Illinois in my opinion, but we need time. And then of course it's Indiana and Ohio. We've heard a lot of complaints about lateness and about rains and how short the soybeans are. And I was one of those that couldn't believe that in the middle of June you had soybeans that were only less than 8" high and then now all of a sudden they're up to my waist. A lot has happened."
Questions also remain about how USDA's National Agricultural Statistics Service calculated its soybean yield projections.
"We also want to see what they find for pods," Gulke explains. "NASS went out and they counted soybean stems, and there's a lot of rumors going around about how they did it. One of them that I heard is if there's a blossom, even though there wasn't a pod there, they would say you have to assume there will be three pods there with three soybeans each and that's how they came up with their yield. Now as time goes on, they have a lot of history. They're supposedly good at what they're doing in a caveat that says all things being equal from here, no frost, no pestilence, no bugs and everything turns out OK, this is what we should get."
The Tour will help sort out fact from fiction.
"The trade has been skeptical of some of these farmer-oriented tours," Gulke explains. Farm Journal's Tour "has gained a lot more respect, and now there's a lot of people on that Tour that have expertise. … Let's hope [crop conditions are] bad enough so we can come out here and say, 'We've seen the largest production number we're going to see of the year.'"