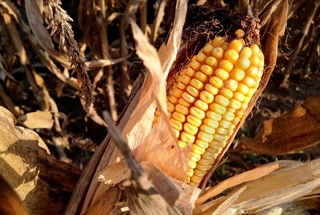 After hearing the USDA's forecast for a record corn crop of 14.475 billion bushels, Jerry Gulke has a few things to say that may be hard for some farmers to hear.
"There's nothing in this report to suggest that they ought to give anybody an incentive to plant more corn anywhere in the world," says Gulke, president of The Gulke Group in Chicago and a farmer himself. "The market is saying that we've got enough [corn] here and in the world combined that someone should cut back the acres."
The USDA did trim corn acreage—slightly—in today's numbers, moving planted acres down to 90.9 million and harvested acres to 83.1 million. But the news didn't help corn prices, which fell more than 10 cents on Friday afternoon to $3.34 for December futures.
"I think what happened today is that the good news wasn't good enough," says Gulke, who thought the USDA might reduce those acreage figures by a million acres or more.
Listen to Gulke's full analysis:
A similar situation happened with soybeans today. While bumping yields and overall production, the USDA reduced soybean acreage, adjusting the planted area to 84.1 million acres and harvested land to 83.4 million acres.  They also decreased the soybean carryover by 25 million bushels.
But the market didn't seem to care. Soybeans also dropped, losing more than 19 cents to land at $9.224 for November futures.
"The problem is [that] they are lowering [the soybean carryover] from 475 million bushels to 450 million bushels," says Gulke, who explains that such a high number so late in the marketing year and the harvest season is bad news for bean prices. "There's nothing left to kill this crop … The market thinks that anything more than 400 million [bushels] is way more than we need, especially with South America coming on."
The situation only increases his belief that farmers should seriously consider storing their grain so that they can put the basis to work for them, rather than against them.   "A lot of money can be made  by holding that grain," says Gulke, who expects demand will eventually exceed the readily available supply of corn, narrowing the weak, wide and painful basis in many areas right now. "The market is going to have to buy grain out of the hands of elevators and farmers."
What are your thoughts on today's USDA report? Are you considering planting less corn next spring? Tell us what you think on the AgWeb discussion boards.