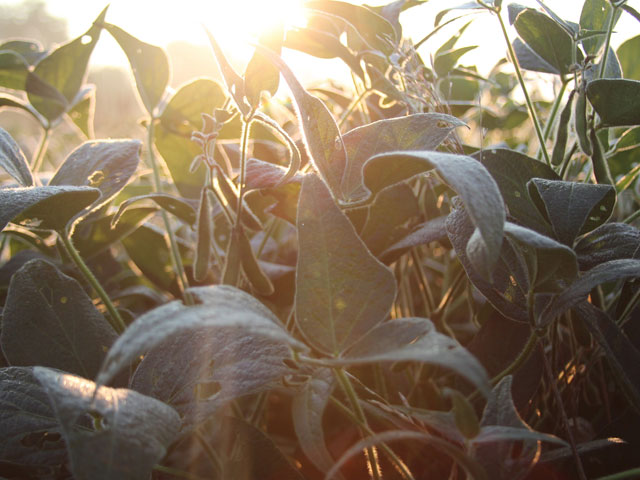 After starting the week to the downside, soybean futures led corn and wheat higher in a surprising turnaround to end the week strong while scoring an important technical reversal higher after weeks of losses, says Jerry Gulke, president of the Gulke Group.
"[Soybeans] made new lows for the move this week, then turned around and went back above last week's high," Gulke notes. "We had what they call a weekly key reversal higher, which is pretty significant, especially after you've fallen a long way."
 
Listen to Gulke's full analysis:
September soybean futures fell from the July high of $10.29 ½ to $9.39 ¼ early last week before finishing this week at a much stronger $9.75 ½, after starting the week soft and rallying into the weekend.
Corn and wheat also finished stronger on the week with September corn inching 1 ¾ cents upward to finish at $3.72 ¾, while nearby CME wheat ended the week 11 ¼ cents higher at $5.10 ½.
The market's eye continues to be on USDA's August crop report due out Wednesday, with USDA expected to report a new soybean crop yield estimate after having resurveyed soybean growers in Arkansas, Kansas and Missouri. The anticipation of a new soybean yield estimate might have been priced into Friday's rally.  
Meanwhile, Gulke adds that stressed corn fields in some Midwestern growing regions likely are a supportive factor for corn prices.
Judging from his own observations in farmers' fields, Gulke says there's reason to be concerned for yield potential in parts of Indiana and Illinois.
"I've walked enough corn fields. I would say the more fields I walked, I'd find a good one, a very good one, and then I'd find one that wasn't so hot. And both were surprises to where it was a real dilemma, and that's what the market is trying to digest, I think" Gulke notes.
On Monday, USDA's National Agricultural Statistics Service rated the U.S. corn crop at 70% good-to-excellent, slightly under last year's crop rating at this time of 73% good-to-excellent.
While much of the Midwest corn crop is in great shape, Gulke doesn't expect USDA to raise the corn yield in the upcoming report from its July estimate of 166.8 bu./acre. How much the yield could be lowered, he adds, is the big question. 
"Like I told one guy that called me, I don't know how bad it is, but I know how good it's not," Gulke says of the U.S. corn crop. "We've probably seen the high water mark for corn yield – regardless of how good it is out west."