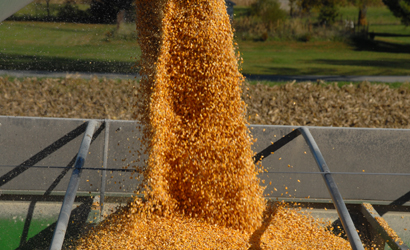 Like everyone else, Jerry Gulke of The Gulke Group can't quite believe this year's near picture-perfect corn growing season. "We thought there'd be a bad day or a bad week when we would have a crop scare, but it appears that throughout the country we haven't had a bad growing day," Gulke told Farm Journal Radio Friday. Corn may be hitting the black layer stage in northern Illinois in a few weeks, and soybean yields are plumping up, thanks to timely rain.
"All things being equal, it looks good from here," Gulke said.
But he cautioned farmers and ranchers to be smart in the weeks and months ahead, given the downward price pressure on corn and soybeans in the face of such big crops. (While Gulke thinks that corn acreage may be down, he thinks the average yield could reach 175 bu. per acre; soybeans are also promising, with some crop watchers forecasting yields of 47.5 bu. per acre for beans.)
Listen to Jerry Gulke's full analysis here:
For livestock producers, that means shifting away from a grass diet to an increasingly affordable corn-heavy one. "It makes economic sense for everyone who raises calves to become a feedlot," Gulke said, noting the recent price rallies in the market even for 2015 futures. "… We're getting a livestock position where you can go quite way out and still be making money feeding cattle."
For grain farmers, though, Gulke is worried about the potential carryover on such a large crop and how long it could depress prices in the short and long term. He stressed the importance of grain storage, which gives farmers more control about when and what price to sell their crop in the months to come. "If you've got grain storage, you can make 35 cents. And if you're creative, you can make more," Gulke said. "…The easy money on the downside is gone, so now we've got to make 10 cents here, 15 cents there on storage and creative marketing in order to make this a pretty decent year."