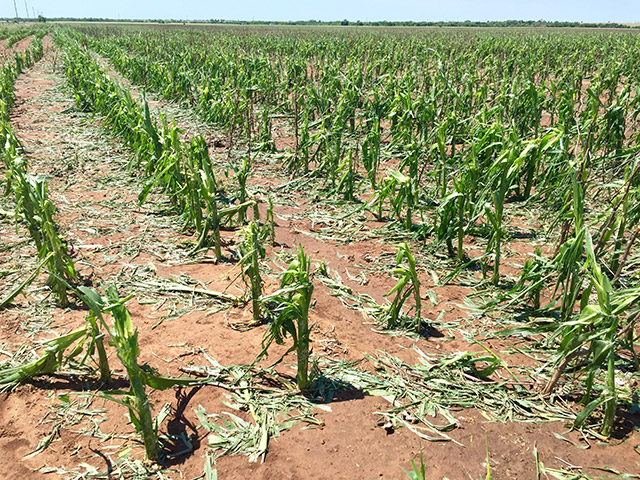 Hail damage can lead to tough decisions for farmers. On May 11, massive hail in pockets of the Midwest led to severe damage that could lead to replant or crop insurance claims.
NOAA's Storm Prediction Center's hail reports from Monday May 9 to Thursday May 12. Circle size corresponds to size of hailstone reported. Color corresponds to day of the week. (NOAA/Farm Journal)
Hail fell from Oklahoma to parts of Illinois and ranged from dime- to baseball-sized hail.
In Oklahoma, corn is far enough along in the growing process that replant might not be an option, no matter how severe the damage. John Stotts, master agronomy adviser with Winfield, advises farmers wait and see before making any decisions. "This storm happened less than eight hours before the picture (below) was taken," Stotts says. "It generally takes three to five days before we can really assess the extent of the damage."

Cornfields were severely damaged near Lawton, Okla., due to hail that ranged from 1.5" to 2.25" in diameter on Wednesday. Photo courtesy of John Stotts
Farmers in Missouri might see less severe yield loss since their plants are smaller. "My corn was between V3 and V4," says Kyle Allen, Channel seedsman in eastern Missouri, which received hail that ranged from 1/2" to 3/4" diameter. "It damaged the leaves, but the worst damage I saw was 15% to 20% potential yield loss," Allen says. "Since the growing point is still below the ground, we're optimistic."
Many in hail-stricken areas took to Twitter to share what they were seeing.
Look at the size of #hail that's coming down at our Weldon Spring Branch! Stay safe out there today! #stlwx pic.twitter.com/SO3Y1kj0va

— Central Bank of STL (@CentralBankSTL) May 11, 2016
Crazy photo of hail divots on a green at Hidden Valley Golf Course in Lincoln. Photo by @schmaleli pic.twitter.com/QFCQS7pyQM

— Ofc. Mike Bossman (@OPDOfcBossman) May 10, 2016
Late night hail near Bray, Oklahoma. It looks like Kim Condit Mays found some ice for her cooler. #okwx pic.twitter.com/57fWcd7Rz1

— Brad Sowder (@KOCOBrad) May 12, 2016
Many universities have guides to help determine the percentage of potential yield loss. It's also important to talk with your crop insurance adjusters before taking action such as replanting. Without consulting with your adjuster, you might not receive reimbursement.
Did you get hail? How did it affect your fields? Send your photos and observations to AgWeb's Crop Comments.