As U.S. consumers look to increase their intake of protein about half of them feel animal protein, namely meat and fish, is still considered the best source of protein, finds The NPD Group, a leading global information company. To demonstrate their belief, over 60 percent of them say they eat animal protein in a typical day.
Topping the list of the animal proteins considered the best sources of protein are beef and chicken, then fish which is distantly followed by others, which includes pork, ham, shellfish, lamb, and bacon, according to a recent NPD report Protein Perceptions and Needs. The report also finds that consumers, generally, are less likely to cite dairy and eggs as the best sources of protein when compared to animal protein.
To better define protein consumers, the NPD report segments them into three categories: Traditional Protein Purists, Flexible Protein Users, and Knowledgeable but Indifferent. Traditional Protein Purists are much more likely to consider animal proteins as their main source of protein. This segment is content eating animal proteins and do not feel the need to seek out protein alternatives.
Consumer Choices for Best Protein Sources
Which do you feel is the best way to get your protein?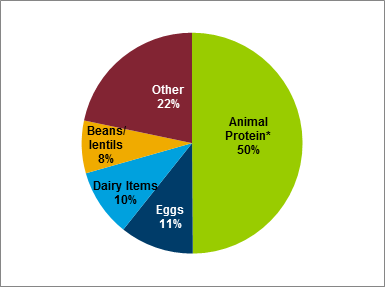 Source: The NPD Group/Protein Perceptions and Awareness report
* Animal Protein does not include lunch/deli meat, which is included in other

"While Traditional Protein Purists stick to their traditional meat sources for protein, they are also likely to have more meals that are rounded out with vegetables and grains," says Darren Seifer, NPD food and beverage industry analyst. "Unlike Flexible Protein Users, it would be difficult to convince these protein consumers to use a different protein source than animal protein. For food manufacturers and retailer to reach this group, it's a matter of understanding and reflecting their needs in product development and marketing messaging."

About The NPD Group
The NPD Group provides global information and advisory services to drive better business decisions. By combining unique data assets with unmatched industry expertise, we help our clients track their markets, understand consumers, and drive profitable growth. Sectors covered include automotive, beauty, consumer electronics, entertainment, fashion, food / foodservice, home, luxury, mobile, office supplies, sports, technology, toys, and video games. For more information, visit www.npd.com and npdgroupblog.com. Follow us on Twitter: @npdgroup.
Source: The NPD Group