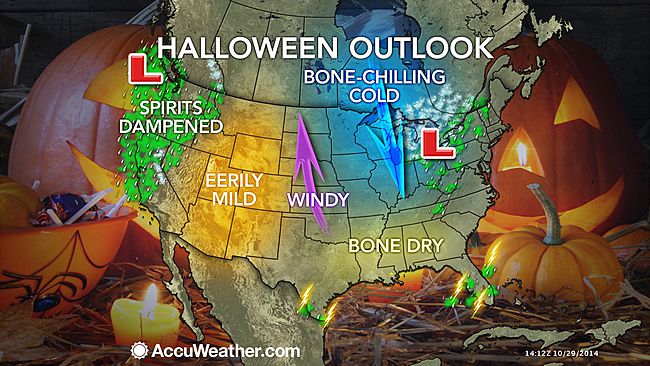 Record highs were recorded in parts of the Southeast and Northeast earlier this week. But the weather script gets flipped for the weekend, as a cold front plunges temperatures below freezing in the Midwest into parts of the South.
Lows Saturday morning will drop into the 30s all the way into parts of the Deep South, with a freeze possible as far south as northeastern Texas and northern Mississippi, according to the Weather Channel. TWC says freeze warnings are possible in more than 15 Midwest and Mid-South states.
According to AccuWeather, which is also predicting "bone-chilling" cold weather this weekend, several parts of the Midwest, including Detroit, Cleveland, Cincinnati, Indianapolis and Pittsburgh, may even see snow on Halloween night.
A sunny Saturday won't stop the frigid temperatures, either – expect afternoon temperatures to be 10 to 20 degrees cooler than normal averages this time of year. On Sunday, another widespread freeze is likely, bringing unseasonably cold temperatures as far South as Florida, where even Miami could see a new record low at 54 degrees.
Stay on top of weather changes throughout the season with AgWeb's daily frost/freeze outlooks.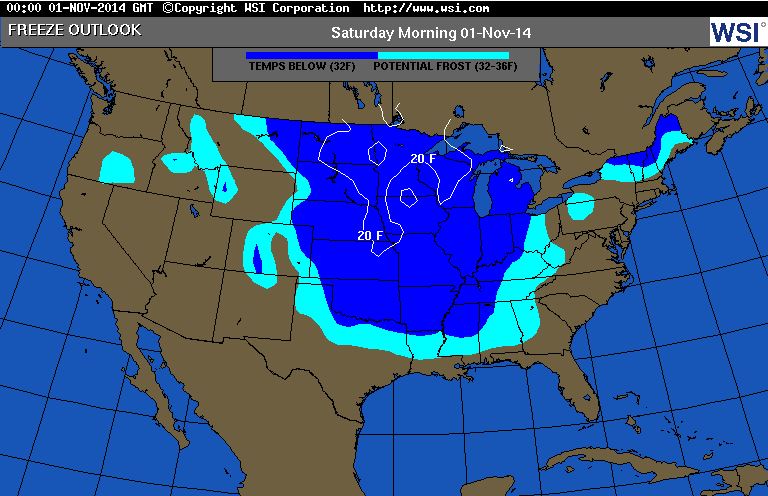 It's one of more than a dozen weather maps that AgWeb provides, along with award-winning weather coverage and daily forecasts from AgDay TV meteorologist Mike Hoffman. Visit http://www.agweb.com/weather/ to get it all.