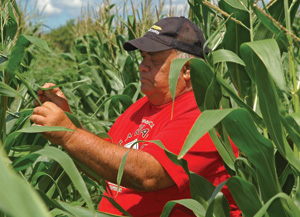 Cover crops and no-till boost soil quality and yield
After retiring from a factory job, Larry Bonnell of Pittsford, Mich., looked forward to farming during the day, no longer forced to plant and harvest in the evenings and on weekends. The extra time and attention he's been able to devote to crop production is paying off in higher yields and lower applied fertilizer rates. The reason, he says, is no-till and cover crops—the same practices that keep his nutrients at home.

His keen attention to crop nutrients earned him recognition as an Upstream Hero by the Conservation Technology Information Center. Upstream Heroes are farmers who do an outstanding job of managing nutrients so they can't escape into local water bodies or all the way to the Gulf of Mexico.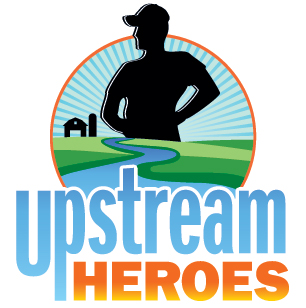 "During a drought, our county's average corn yield was 65 bu. per acre," Bonnell says. "My average pushed 165 bu." Omitting tillage prevented the escape of moisture from the soil at planting time, he believes; and no-till and cover crops increased the soil's organic matter content, which also increased water-holding capacity.

In average growing seasons, corn yields on Bonnell's rolling, high-clay soils range from 155 bu. to 170 bu. per acre. With excellent weather, they reach 190 bu. Those yields come from 152 lb. of nitrogen fertilizer per acre (300 lb. per acre of 46-0-0 urea and 125 lb. of 11-52-0 starter).

"In 2012, on some fields, I'm going to cut back to 115 lb. to 120 lb. per acre of applied nitrogen," says Bonnell, who grows 300 acres of corn, soybeans and wheat.

Attending a no-till conference more than a decade ago led Bonnell to park his tillage tools. Knowledgeable advisers helped him make the transition.

"An experienced no-till farmer told me no-till helped him farm 1,800 acres all by himself," Bonnell says. "After I talked to some others, the no-till concept came together for me."

During the conversion, Bonnell's yields held steady. Reduced fuel usage convinced him he was on the right track. His advisers tipped him to the benefits of cover crops, so he adopted both practices at once. He believes cover crops aided his switch to no-till by penetrating old tillage pans and improving soil structure.

Bonnell's standby cover crops are annual ryegrass and cereal rye, in combination with others. He uses annual ryegrass for plantings until Oct. 1, and cereal rye for later seedings. Annual ryegrass mixtures are planted after wheat (Bonnell grows 30 acres a year) and soybeans, and cereal rye follows corn.

"My No. 1 favorite cover crop is annual ryegrass," Bonnell says. "I love what it does underground, rooting deeply and breaking up hardpans. But I love to try new things."

Cover crops Bonnell mixes with annual ryegrass or cereal rye include crimson clover, alsike clover, mammoth red clover, cowpeas, dwarf Essex rape, Austrian winter peas and several kinds of cover crop radishes. He plans to test sunflowers, forage oats and sudangrass in the near future.

For Bonnell, cover crops are a continual learning experience. "I like to plant strips of different mixtures across a field and study the results," he says.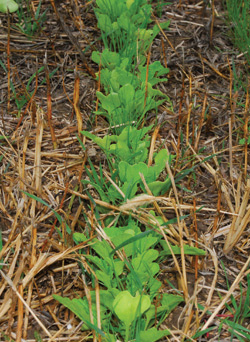 Among Larry Bonnell's cover crops are several types of radishes and annual ryegrass.
Fit covers to your farm. Don't assume anyone else's cover crop recipe is ideal for your farm, Bonnell cautions. "You have to learn what each one does in your climate and conditions," he says. For example, annual ryegrass planted after wheat harvest works for Bonnell, but, farther south, annual ryegrass planted in July could go to seed in the fall, which is not desirable.

Bonnell has planted cowpeas in August and was satisfied with the growth they produced. But in many areas, August is considered too late, says Dan Towery of Ag Conservation Solutions in West Lafayette, Ind. "Cowpeas usually are planted in the June/July time frame," he says.

Bonnell likes legume-grass mixtures because legumes fix nitrogen for the next crop, while grasses take it up and store it. That prevents nitrogen from being lost to the environment. The grass releases the nitrogen later, after Bonnell kills it with a herbicide.

"I don't want my nitrogen going down the river," Bonnell says, noting that his farm is only about 50 miles from Lake Erie.

As an additional measure to help prevent loss and ensure that nutrients are used by his crop, Bonnell applies NutriSphere-N with his urea fertilizer and Avail with his phosphorus.
A sponge, not a highway. Since he adopted no-till and covers, Bonnell says, soil quality is improving, especially on clay knobs where he used to get stuck. "The ground is like a big sponge—not like a concrete highway anymore," he says.

Earthworm populations are high. Bonnell finds he can also enter fields earlier in the spring and after a rain.

The most dramatic change is the increase in organic matter—from 1.4% to 3%, 4% and even 5% in some fields. More organic matter makes soil capable of supplying more nitrogen.

Where organic matter content is highest, Bonnell plans to reduce his nitrogen fertilizer rate. He'll use a pre-sidedress nitrate test to make sure the crop doesn't run short, applying additional nitrogen if necessary.

Bonnell's soil tests, taken every two years, no longer call for potassium, as they once did. "My soils are testing in the 400 ppm to 500 ppm range," he says. "It has to be the result of deep-rooted cover crops moving potassium upward from deeper in the soil."
Advice from others. Learning to manage cover crops requires a positive mindset, Bonnell points out. "Talk to growers who have been successful with cover crops, and you'll be able to handle them," he advises.

At first glance, cover crops seem ill-suited for a farm as far north as southern Michigan. It can be challenging to get them planted after corn harvest, which is why Bonnell usually grows them on only half of his acres. But, once planted, he says, snow cover helps prevent winterkill, so he gets more growth the following spring.

"I love cover crops," Bonnell concludes. "Since I've been using no-till and covers, my income tax has gone up every year. My tax man keeps telling me I should buy something."
 
Planting Options
There's more than one way to plant a cover crop, Larry Bonnell has found. Depending on the situation, he might no-till drill a cover crop or broadcast seed mixed with fertilizer.

"I feel comfortable broadcasting most cover crop seed," he says. "Aerial seeding into soybeans would be good, but it tends to be expensive."

You don't have to own a no-till drill, or even be a no-till farmer, to give cover crops a try, Bonnell says. "You can broadcast seed and then scratch the surface with a light disk to cover the seed a little," he says. "Many types of cover crop seed just barely need to be covered. In fact, some can't be more than an inch deep or they won't come up at all."

Killing Cover Crops
There is a time for everything, including cover crops. In the fall, you want them to grow; in the spring, you have to kill them.

The first year or two that Larry Bonnell grew cover crops, he had difficulty getting a complete kill. But after consulting growers and other experts, he no longer worries about covers competing with his crops. Glyphosate and 2,4-D is Bonnell's standby combination for spring control.

"If the field is going to corn, I add Prowl or simazine to the mix," he says. "If the field is going to soybeans, I try to spray at least a week before planting, so I can add 2,4-D to the glyphosate. I also add Scepter or First-Rate." Prowl, the simazine, Scepter and FirstRate provide residual control.

Some clovers can be hard to kill, Bonnell notes. "When I spray clovers, I watch them closely and, if necessary, make a second glyphosate application to get a complete kill," he says.

Annual ryegrass—a popular cover crop for its ability to root deeply, penetrate hardpans and pull up nutrients—can be tenacious, Bonnell says. But if you follow the tips of successful growers, it's perfectly manageable. An excellent source of information is at www.ryegrasscovercrop.com.
---