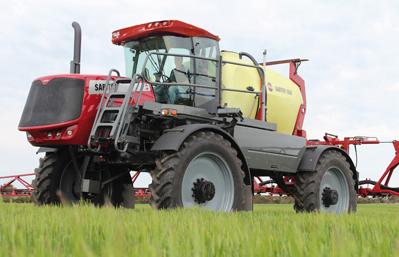 A longtime manufacturer of equipment for the U.S. agricultural market is extending its reach into the self-propelled sprayer market. In January, Hardi North America launched two new models, Presidio and Saritor, that it aims to carry far into the future.

"This is our introduction, but we been developing this project for many years," says Brad Frazier, national sales manager, Hardi North America. Founded in 1957 in Copenhagen, Denmark, Hardi has had a presence in North America since 1984 and specializes in pumps, spraying equipment such as pull-type sprayers and other products including orchard and vineyard sprayers.

Representatives were available to talk about the new sprayers during the 2013 National Farm Machinery Show in Louisville, Ky., this month.

So far, Hardi's new self-propelled sprayer brands comprise three models. The Presidio 2700, considered an entry-level model for mid-size farmers, features a 700-gal. tank, boom options of 80' or 90', hydrostatic drive, a Deutz TCD2012 Tier III engine and ground speeds of up to 25 mph, among other features. It offers tallest-in-class clearance of 58", making it ideal for corn or post-emergence application, Frazier says.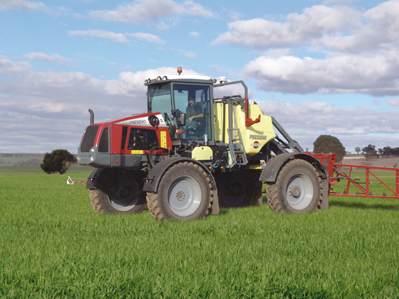 Its empty weight of 16,225 lb. makes it the lightest sprayer in its class, as well as the sprayer with the best weight distribution for that class, he says. List price ranges from $215,993 to $219,606.

Named for the Roman god of weeding and hoeing, the Saritor line features two models, the 4000 (featuring an 1,100-gal. tank) and the 5000 (1,300-gal. tank). Both are intended for use by mid- to large-scale producers, can operate with a boom up to 132' wide and offer clearance of between 48" and 54". Ground speeds range from 31 mph for the 4000 to 33.5 mph for the 5000. Both are powered by a Cummins QSB6.7 Tier III engine. The 4000 ranges in price from $301,300 to $313,300 depending on boom size, while the 5000 ranges from $311,500 to $322,500.

Differentiating the sprayers are their fluid systems setup and booms, Frazier says. Hardi DynamicFluid4 system accurately delivers the target rate without delay regardless of whether sections are switched on, a change in speed is in progress or the machine is turning in or out of headlands. The DynamicFluid4 processor analyzes spraying data 20 times per second and provides preemptive rate control capability, precisely altering pump speed. The fluid system is driven by the Hardi 650 wet seal run dry centrifugal pump, which can achieve 15 gpm to 30 gpm rate changes in 1.5 seconds.

The in-cab application controller platform provides a high level of performance application precision with all function and rate control at the fingertips of the operator. Loading is fast and efficient with controls that are within easy reach and logically placed in the work zone. Two color-coded smartvalves operate the primary filling, spraying and cleaning functions. Loading chemicals is safe and easy via a high-capacity turbofiller that is lowered to provide easy access.

Booms also matter. The Presidio sprayer is equipped with a proven Eagle boom that can apply accurately at high speeds on rugged terrain such as no-till fields, Frazier says. It offers strong 2-D truss construction supported by fast-acting paralift boom height control.

Both Saritor models are equipped with a new Terra Force boom that consists of a 3-D truss construction supported by an extra-wide paralift, which further enhances stability for a smooth ride and performance. The AutoTerrain boom management system provides on-the-go stability control. Its automatic height system allows the operator to plug in a predetermined height–20" above the crop is commonly used with 110-degree flat-fan nozzles, for example–for consistent application.

Production for 2013 already is sold out for all of Hardi's self-propelled sprayer models, Frazier says. The company is ramping up production at its North American headquarters in the U.S., which opened in 1988 in Davenport, Iowa. There are more than 200 Hardi dealers in North America.

"The overall feedback has been overwhelmingly positive," Frazier says.

The company chose to limit both first-year production and its geographic area for its initial sprayer introduction to Iowa and surrounding states such as Minnesota, North Dakota, South Dakota, Nebraska and Illinois. Production capabilities for 2014 have not been finalized.

Production of models with tanks capable of carrying more than 1,300 gal. of fluid is planned over the next five years, Frazier says. The goal is to introduce a full line of self-propelled sprayers featuring many configurations of horsepower and boom size.

The 2,600-gal. CM, introduced last year, is now available and offers the largest capacity available from any U.S. manufacturer.