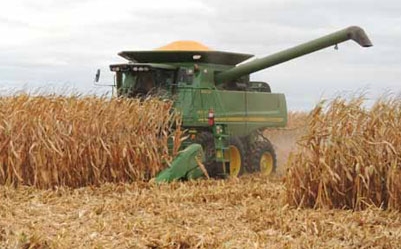 A slow-moving cold front will provide the focus for locally heavy, early- to mid-week rainfall across portions of the East and Midwest, according to USDA's agricultural weather highlights. Heavy rain will continue in the Northeast through Thursday, while scattered showers will linger through week's end from the Great Lakes region to the northern and central Appalachians.
Five-day rainfall totals could reach 1 to 3 inches or more in the East and lower Midwest. A brief period of cooler weather will trail the rain, but warmth will quickly return to the High Plains by mid-week and much of the remainder of the U.S. by week's end.
Watch AgDay's weather forecast for Oct. 14:
Dry weather will prevail across the remainder of the country, except for some locally heavy showers from the Pacific Northwest to the northern Rockies.
The National Weather Service's 6- to 10-day outlook for October 19-23 calls for near- to below-normal temperatures across most of the eastern half of the U.S., while warmer-than-normal weather will cover Florida, Maine, and the western half of the nation. Meanwhile, near- to below-normal precipitation in most areas of the country will contrast with wetter-than-normal conditions in southern Florida and the Pacific Northwest.
Regional Weather Outlooks
In the West, showers are overspreading western sections of Washington and Oregon. Elsewhere, an extended spell of warm, dry weather continues to promote fieldwork, including summer crop harvesting and winter wheat planting. However, some Northwestern winter grains will soon need rain to promote crop establishment.
On the Plains, cool conditions linger in the wake of a departing storm. A frost advisory is in effect early today across portions of the central High Plains. Recent rainfall associated with the storm slowed or halted fieldwork across the central and southern Plains but benefited emerging winter wheat. Meanwhile, very warm weather is overspreading the northern High Plains, where today's high temperatures will exceed 80°F in some locations.
In the Corn Belt, mild, dry weather has returned to the upper Midwest. However, showery, breezy weather covers the remainder of the Corn Belt, further slowing a harvest season already delayed by late corn and soybean maturation.
In the South, cooler, drier air is overspreading the western and central Gulf Coast States. Meanwhile, heavy showers and locally severe thunderstorms are sweeping across the Southeast.
Check your forecast: View your weather conditions down to the field-level with AgWeb's Pinpoint Weather
Read and watch more Top Producer Power Hour news and videos.