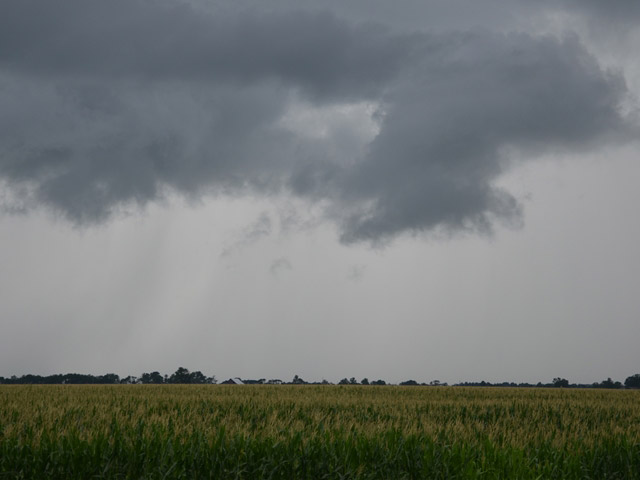 For the remainder of today, showers and thunderstorms will stretch from the interior Southeast into the Northeast. Meanwhile, rainfall associated with Hurricane Simon's remnants will spread into the Southwest, according to USDA's agricultural weather highlights.

During the second half of the week, the tropical moisture's interaction with a cold front could lead to 2- to 4-inch rainfall totals from the southern half of the Plains to the central Appalachians.
In contrast, little or no rain will fall from the Pacific Coast to the upper Midwest. Elsewhere, late-season warmth will dominate the South and West during the next several days.
The National Weather Service's 6- to 10-day outlook for Oct. 12-16 calls for warmer-than-normal weather nationwide, except for near-normal temperatures from the Pacific Northwest to the northern High Plains. Meanwhile, wetter-than-normal conditions across the majority of the U.S. will contrast with near- to below-normal rainfall from California and Oregon to the southern High Plains and the Rio Grande Valley.
Watch AgDay's weather forecast for Oct. 7:
Regional Weather Outlooks 
In the West, showers associated with the remnants of Hurricane Simon are pushing into the Desert Southwest. Elsewhere, warm, dry conditions are promoting fieldwork, including winter wheat planting and summer crop harvesting. On Oct. 5, the cotton harvest was 15% complete in Arizona and 5% complete in California.
On the Plains, late-season warmth in most areas favors winter wheat planting and emergence, as well as summer crop maturation and harvesting. Cool conditions linger, however, in the Dakotas and eastern Montana. On Oct. 5, Colorado led the nation with 90% of its winter wheat planted, while Nebraska led the nation in winter wheat emergence (64%).
In the Corn Belt, cool weather accompanies isolated showers. In areas of the upper Midwest affected by the recent freeze, producers continue to monitor immature crops. At the time of the cold snap, on Oct. 4-5, at least nine-tenths of the soybeans were dropping leaves in all freeze-affected states except Wisconsin (78% dropping leaves) and Iowa (85%), while at least 90% of the corn was dented in all states but Wisconsin (88%).
In the South, warm, dry weather favors fieldwork in the Atlantic coastal plain—excluding southern Florida—and along the Gulf Coast. In contrast, widespread showers are occurring across the interior Southeast.
 
---
Check your forecast: View your weather conditions down to the field-level with AgWeb's Pinpoint Weather
---
Read and watch more Top Producer Power Hour news and videos.