Curtis Lewis' second home is in the combine seat. With a career as a custom harvester, he was gearing up for the season this fall – until his life took a dramatic turn.
On Oct. 3, Curtis, who lives in Lafayette County, Mo., was taking a load of corn to the elevator when a piercing headache hit.
His wife, Angela, happened to call and she quickly realized he was slurring his words.
"I asked, 'What's going on?' He said, 'I don't know. I'm really confused. I can't feel my right arm and right leg, and I can't see out of my right eye,'" she recalls.
His family rushed him to the hospital. Within minutes, the doctors confirmed the news was grim.
Curtis was immediately taken back for brain surgery. Four hours later, the news got worse. It wasn't an aneurysm or a stroke, it was a tumor that bled; a tumor that ended up being stage 4 glioblastoma.
Since the diagnosis, Curtis has had more complications, undergoing a second brain surgery. The Lewis family traveled to MD Anderson in Texas in November for evaluation and recommendations.
Community Grain Drive
As the whirlwind of events for the family took place in October, plans were already underway to help. The community decided to rally around their own in a unique way.
Ben Brockmeyer and Thad Madsen both work at MFA Agri Service, a farm supply and marketing cooperative, in Odessa, Mo. They knew they had to act quickly. Within days, they had organized a grain drive to travel farm to farm, picking up corn and soybeans from anyone who wanted to donate. The collection would be sold under Curtis' name at the current cash price.
"The community really took off with it, and it's really been unbelievable," Madsen says. "Our goal was four or five loads. I've had people text and call me from Iowa, Oklahoma and Texas, to figure out ways they can help."
Farmers Helping Farmers
That original act of kindness has grown into a flood of love and generosity. In total, Madsen and Brockmeyer collected $35,000 worth of grain, donating it all to the Lewis family.
Generosity poured in from farmers such as Clayton Wieligman of Wellington, Mo. "It wouldn't matter what we were doing, you could call Curtis, and he'd drop what he's doing to help, so I figured we should do the same," he says.
In a year when every bushel counts, farmers gave more than just a bushel. The Wieligmans donated an entire semi load of grain.
"I feel like if I was in Curtis' shoes, he'd do the same thing for me," Wieligman says.
The support flowed in from individuals who have never met Curtis.
"We've just had an outstanding amount of people who wanted to do something," Brockmeyer says. "We had people from Kansas and New Mexico, a couple from Texas. People want to help people."
"It shows how many people he's really touched," Madsen adds. "I know the farming community is always very generous and wants to help people, but to see it get this big, it's really humbling."
For the Lewis family, these acts of kindness come at a time when they need the support.
"It's truly unbelievable," Angela says. "It restores your faith in humanity; there really are good people out there who care about you and your family."
"It shows what a small town can do," says Debbie Lewis, Curtis' mother. "What the farming community, and really everyone nationwide is doing, is just unbelievable."
A Fighter's Heart
As Curtis' fight to beat cancer is just getting started, he's blown away by a community that cares. "There's not enough words in this world because I never thought I was this important," he says, as his eyes quickly fill with tears.
As a community nationwide gives with a harvest full of heart, Curtis is wrangling to beat the odds knowing it will take grit to face this challenge for his life and his family.
"We're going to fight this. I'm not quitting," Curtis says. "We can't thank people enough."
---
To watch a "U.S. Farm Report" video about Curtis Lewis and the community rallying around him, visit AgWeb.com/combining-for-curtis
---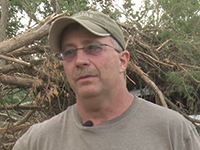 Dairy Producers are Stronger than the Storm
May 28, 2019 is a day Rob Leach and his family will never forget. An EF-4 tornado ripped through Kansas and down the middle of their dairy farm. The twister was a monster. At a mile wide, with 170 mph winds, the tornado flattened 10 barns, silos, shops and more. Some cows were carried a half a mile.
Yet, Leach says, what has happened since the tornado is even more remarkable. "I made one phone call," he says. "And I had a couple hundred people here. The first guy was a stranger who walked a mile to get here."
Six months later, the family has welcomed new calves back to the farm. Rebuilding the operation is slow, but they are focused on the future. "Your friends and family are all that matters. The rest is just stuff," Leach says.
Read more at AgWeb.com/Leach
---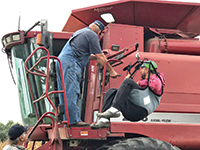 Farmer Reclaims the Driver's Seat
Where there's a will, there's a way – especially if farmers are involved. Tad Johnson, of Atlanta, Ill., has run his family's combine since age 12. But, a one-truck accident in June 2017 nearly took that prized job from him. Johnson is paralyzed from the neck down due neck and spinal cord injuries.
With a little elbow grease, duct tape and supplies from the parts store, Johnson's father, Robert, did what farmers do. He found a way to get Johnson back in the driver's seat and to doing what he loves.
"I don't want him to ever think he's been pushed aside," Robert says.
"The good Lord had a reason for me to stay alive, so we have to keep going forward," Tad says.
Read more at AgWeb.com/Johnson
---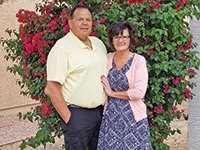 Community Brings Home a Fallen Brother's Last Crop
How far does the farming community go to help a fallen brother? The answer is found in the empty fields of producer Kevin Barz. In July 2019, Barz, and his wife, Julia, of Hampton, Iowa, were killed in a motor vehicle accident, leaving behind a devastated family and 1,200 standing acres of corn and soybeans.
Area farmers offered more than condolences — they responded with action. In October, a volunteer army with a machinery fleet cut Barz's 270 acres of soybeans. In November, they returned to harvest 900 acres of corn.
"Kevin was one of those guys that would do anything for anyone," says producer April Hemmes. "Not a single farmer helping in those fields, not one, was finished with their own corn, but that's how we respond."
Read more at AgWeb.com/Barz