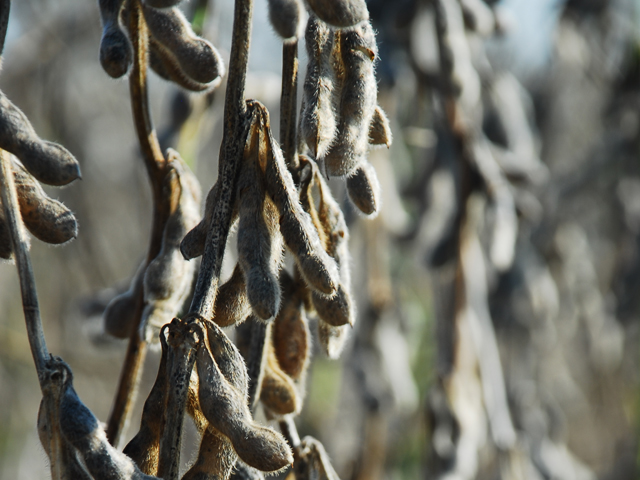 Illinois is considered 'the garden spot' for big yields this year. Yet one Peru, Ill., farmer might have 'the sweetest spot' of them all, becoming the only producer from Illinois on record to grow over 100-bu. beans independently. 
There's not much left of Dan Arkels' bean field. What's now just bare dirt produced big numbers this season.
"It's not easy to grow 100-bu. beans, as everybody knows," Arkels said. 
Watch the full AgDay report:
Arkels knows that more than anyone, after trying for years and coming up short. 
"In 2012, we made it to the mid-80s. That was a drought year," Arkels said. 
Finally 2014 broke through, producing nearly 104 bu. an acre. 
"This year I decided to really go for it all out and see what we can do. We tried to get it done and it worked," Arkels said.
He admits the weather was just luck. 
"The growing season has to be right for you to accomplish 100-bu. beans. You need sunlight and timely rains," Arkels said. 
But he also needed a plan for plant health. 
"We kept it healthy with fungicide and bio treatments. That was probably what attributed to the yield more than anything," Arkels said. 
Arkels believes one reason his 30-acre plot achieved that big yield is because of his continuous corn-on-corn rotation for three years. 
"In the last 15 years, it had one crop of soybeans on it," Arkels said. 
He also wasn't stingy with his chemical fertilizer. 
"It was all granular phosphate and potash and liquid nitrogen. Thirty-two percent nitrogen was applied pre-plant," Arkels said. 
He claims putting several forms of nitrogen down throughout the season helped, too. 
"We applied 150 units of nitrogen down," Arkels said. 
But most importantly, Arkels says this dream wouldn't be a reality without a good team. 
"We met in a field every two weeks and analyzed the field. We pulled roots and we checked the plants and planned our next application," Arkels said. 
So what's next for Arkels? Could it be another big batch of beans? 
"We went through the whole month of July without any rain. I felt that I lost 10 bu. by no rain the whole month of July," Arkels said. 
Who knows, come next year, this bare field may hold another monster yield. 
Now you heard Arkels say he adds a significant amount of nitrogen to his beans. AgDay called Farm Journal Agronomist Ken Ferrie and asked him about that. He says they've done quite a bit of test plot work and so far, have found no financial or economic benefit to adding nitrogen to soybeans. 
Of course, Arkels is no stranger to big yields, even recently winning the Illinois National Corn Growers Contest. In 2013, his corn yields came in just under 320 bu. to the acre.
More information: