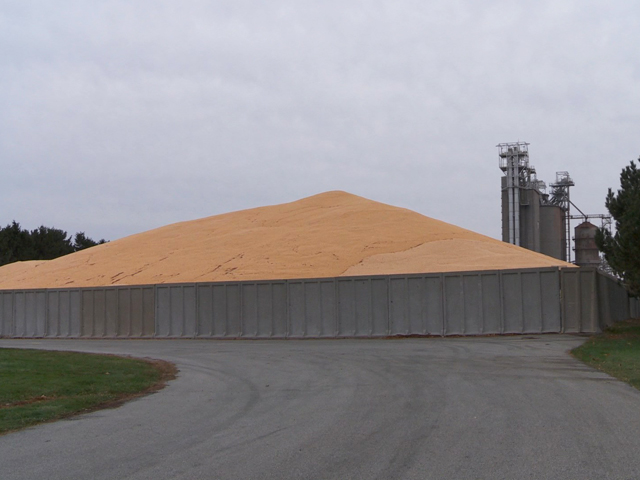 While states like Michigan are struggling to get the crop out, Illinois is nearly done. According to the latest Crop Progress report, 94% of corn and 95% of soybeans have been cut in that state. With bushels coming in, the challenge may be where to put all that grain. The state of Illinois has the largest permanent storage capacity space in the nation, capable of storing about 1.4 billion bushels. Yet this year, millions of bushels are ending up on the ground.
Watch the full AgDay report:
A mountain of grain sits at the The Andersons elevator in Champaign, Ill.
"Obviously, when you have a record crop to handle, it's very challenging, but it's also very rewarding to see the big yields the farmers talk about as they come into the elevator," said The Andersons regional sales manager Brian Stark.
Because of the big yields, elevators have piled grain in either temporary or emergency storage. Temporary is covered, usually with a tarp. Emergency isn't. This elevator will pile over 3 million bushels of uncovered grain on the ground this season.
"We pile corn every year, but this is the most we have piled on the ground in quite some time," said Stark.
Stark says they have maxed out this ground space, but there should be enough room in the grain bins to accommodate to the rest of harvest.
They're not the only facility.
As of Nov. 13, the state of Illinois has nearly 119 million bushels of temporary storage and about 11 million bushels of emergency storage, both requested or approved.
The state requires The Andersons to remove the uncovered grain within 90 days.
"Obviously we have options. As we wrap up harvest, we will get better from the truck and rail side, and we'll be able to get the grain picked up in a quick fashion, in permanent storage, moved into quick space," said Stark.
Stark says over 95% of this elevator ships by rail. The rest is by truck.
"We've shipped some units throughout the harvest season to help maintain space, but it's been few. It's hard to develop a pattern to how timely they've been. We will say the ones we did sell, showed up prompt," said Stark.
He's confident the rail system will pull through into next year.
"I think we've got a good plan in place to maintain good quality of grain and get it done in a timely fashion," said Stark.
Stark says the facility has seen more grain on the ground than this, and this year they haven't had to cut hours.
"We haven't had many delays. For that, we can be thankful," said Stark.
This year's weather breaks helped, too. As combines stayed parked, it allowed days for farmers and elevators to move grain.
"To go six to eight weeks straight with this size of crop, I don't know if anyone would be able to handle the pressure you would see from that," said Stark.
A scene to remember, as 2014 may be the biggest crop we've ever had.
Illinois Bureau of Chief of Warehouses Stuart Selinger says historically, this isn't the biggest grain pile the state has seen for emergency and temporary storage. Selinger says grain stocks were down early, leaving lots of permanent storage available before harvest.
More information: