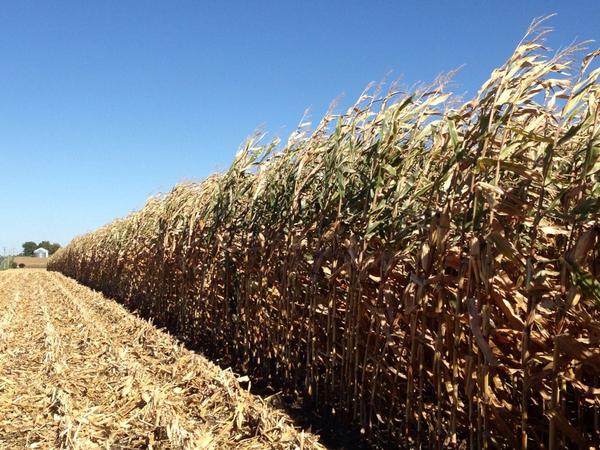 All season we've heard how this year might be the biggest crop on record and Illinois might be the sweetest spot for big yields in the Corn Belt. In the northeastern part of the 'I' state, some farmers report they're seeing 15% to 20% over their APH.
Farmers in northeastern Illinois say this crop is good. It's so good that last year and this year may be the best they've ever seen. They're crediting it to almost perfect weather for most of the season.
Watch the full AgDay report:
For Dan Mitchell and his son Jace, this year is fun to be a farmer.
"You drive down the road and the crops look great. All summer long the fields looked great. The fields were even. It was very encouraging," said Dan Mitchell.
The Seneca, Ill.,farmer is seeing the best crop he's ever produced and quite possibly, one of the biggest in the Corn Belt.
"It's the biggest crop I've ever harvested for sure. I've been farming at least 15 years and it's good," said Mitchell.
Mitchell says he's about a week behind, but his yields make up for it.
"We've been up at 250 field averages across most of what we've done. The beans are making 70 or a little more," said Mitchell.
He credits that success to a perfect season. It was cool enough with timely rains.
"In the springtime, not too far away, people were getting three or four inches a shot while we had seven- or eight-tenths. It was just really good," said Mitchell.
It's a similar situation 20 miles north, except a mid-season windstorm plowed through some of the area, flattening corn.
"We still have a lot of goose-neck corn. It's a little difficult to harvest," said Newark, Ill., farmer Trenton Toftoy.
Despite the storm, Toftoy says the past two seasons have been good to him.
"Back to back, it's probably the best crops I've seen," said Toftoy.
 Over the last two years, he's been seeing some big yields.
"The corn has been anywhere from 200 to 240 bu. an acre. Beans have been in the high 60s and low 70s," said Toftoy.
It's encouraging from a yield perspective, but price is a different story.
"I had a lot of forward contracting this year so I'm thankful for that, but we'll see. I have to be optimistic the prices will rebound," said Toftoy.
Mitchell says he's probably not going to get any money off of crop insurance this year. He expects his returns to be about break-even.
"The local basis is really bad so the overrun bushels are priced at low levels right now. If you can't store them, it's going to be a problem coming into November," said Mitchell.
Some areas of the state did receive above average rainfall, which brought on some SDS and white mold. Farmers in this area of Illinois say that occurred later in the season and that shouldn't make a huge dent in the yields.
Both farmers say their test weights are running between 55 to 57 pounds. They say their moisture content is in the high teens and low 20s for corn and mostly running in the teens for beans.
More on 2014 harvest: