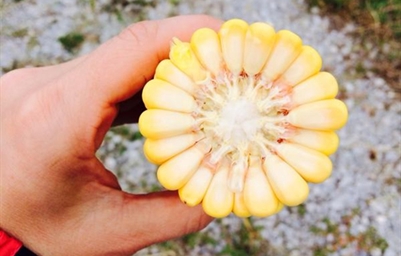 In Ohio, 7% of the state's corn and 9% of soybean acres have been harvested. That's just a couple points behind in both categories.

Farmers in northern Ohio were pretty happy to see some hot, sunny days recently. They said they need this type of weather to dry down the crop. Even though their July was dry, they had a cool growing season overall, bringing some positives and negatives.
Watch the full AgDay report:


But, the machines are rolling. It's a sight many thought might be delayed.

"It was not a normal summer," said Richard Snyder, a Delta, Ohio farmer.

Before summer arrived, pockets of Ohio had a late-April snowfall. Turns out, it didn't delay them too much.

"The crop went in great. It came out of the ground excellent," said Jake Heilmann, a farmer from Whitehouse, Ohio.

July was a dry month with cool nights. That helped with pollination, but hurt the crop development.

"We had four days of 90 degrees, which is very unusual for us to have that few of days at 90 degrees. We had a lot of 50-degree nights," said Snyder.

Snyder is anticipating an average to above-average crop.

"We are probably running 135 or 140 bu. an acre here. I've got ground where one field is 180 to 190. I found one that's 230," said Snyder.

However, his moisture content isn't what he would like.

"A lot of people won't harvest upper-20% moisture like we will. We have our own dryers," he said.

It's a similar story 20 minutes down the road in Whitehouse, Ohio.

"I think we will see corn yields anywhere between 200 and possibly as high as 230 bu. an acre," said Heilmann.

Heilmann said the moisture content is continuing to drop.

"Prior to warm weather, corn got stuck at 30% and we drug our feet," he said.

It may not live up to the hype of last year, but they'll take another year like this one.

"Average is good. Anything above average is always good," Snyder said.

Heilmann said those cool nights did help with grain fill, leading to higher yields.

More information: