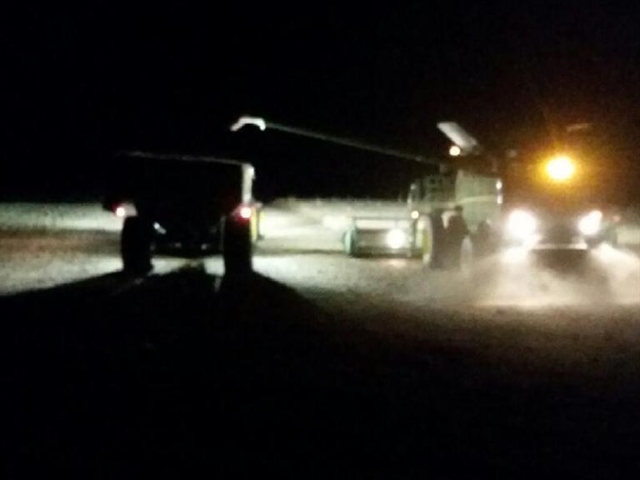 While many farmers throughout the Corn Belt are deep into harvest, others have been at a standstill. Farmers in western Iowa say they've received over 40 inches of rain since April. That's about 15 inches above normal. All that wet weather is making it tough to get their job done this fall.
Watch the full AgDay report:
Farmers in southwest Iowa are having a hard time getting the crop out of the ground. Farmers in this area say they've received about 11 inches of rain in August and over 8 inches in September, creating some wet spots and delaying harvest. But despite all the challenges, these farmers say they have a pretty good crop.
"It's really wet and muddy now," said Shelby, Iowa, farmer Wayne Martin.
Just by looking, you can see western Iowa could use some drying up.
"In general, I'm happy with the yields we're seeing, but why does it have to come with so many challenges?" Martin said.
Martin says too much rain early on combined with summer storms, did some damage early.
"The only thing that saved us was the somewhat cooler temperatures. We had very few days with highs at 90 degrees," said Martin.
Rain pummeled the area in August and again in September, bringing with it variable yields.
"You can't believe the variability we're seeing. A lot of it is caused by too much water. Then you go a few feet and have good yields where water drained off," said Martin.
Ten minutes down the road, harvest is also slow moving for Lance Scott.
"It hasn't always been a blessing to have all of the rain," said Scott.
Even though he's not where he wants to be on the calendar, he'll take what he has.
"It's a lot easier to harvest in the mud with better yields then if we were harvesting a poor crop in the mud," said Scott.
Both farmers say despite the weather, their crops are looking above average.
"In a normal year, we can expect 50 to 60 or more bushel an acre beans and a lot of 175 to 180 bushel an acre corn," said Scott.
But the wet, cool weather brought more disease pressure.
"Those spots are showing up. The yield monitor will drop 30 to 35 bushels an acre going through those spots. Luckily, those are not very large," said Martin.
Whether it's variable yields or pockets of disease, it hasn't dampened spirits.
"Overall, we're in pretty good shape," said Scott.
Farmers say the weather created some erosion problems in the area. It looks like those problems might be sticking around for a while.
In addition to SDS, both say Northern Leaf Blight is also taking a toll on yields. Scott says in some fields, it's a 40- to 50-bushel loss.
More information: