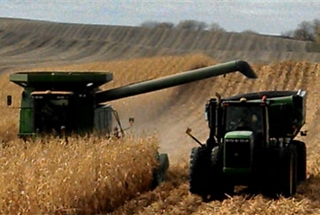 We launch our annual trek across the Corn Belt to gauge this year's corn and soybean crops. We begin in Nebraska where just 3% of corn was harvested as of Monday. It's usually 9% by now.
Watch the full AgDay report:


From too dry to too much rain, farmers in northeastern Nebraska have seen one extreme after another that's making it a slow start to harvest. But if the weather continues to warm, farmers have the potential to have a good rest of the year.

"I'm getting a little antsy. I want to get out there," said Prague, Neb., farmer Carl Sousek.

Sousek has the itch to get into the field.

"I see the potential that we're above average as far as yields," he said.

Cool, wet conditions in September are keeping his combine in the back of the shed.

"So seeing what I'm seeing, I think we're at least a week behind," he said.

The farmer has battled one extreme to the next, starting with dry conditions in July.

"July we had 10 or 20 hundredths of rain the whole month. That was it," Sousek said.

It was the opposite problem in August and September. At that time, 18 inches of rain fell on finishing fields.

"A lot was much-needed. It helped the crops. But a lot ran away and we didn't get a benefit out of it," said Sousek.

He's not the only one. An hour southwest, York, Neb., farmer John Kaliff has seen more than a little rain. It's been one storm after another.

"On Mother's Day, a storm came through. We had 8 or 9 inches of rain, hail and a tornado. It washed a lot out. We had to replant about 2,500 acres on that initial storm," said Kaliff.

Making this the first time he's had to replant a crop three times in the same year.

"There was corn that was knee high or higher that just mowed off. We finished up planting June 14," said Kaliff.

Even though the weather has been a challenge, Kaliff says he thinks his crop will turn out fine.

"When it's all set and done, if it was an average crop, we'd be tickled. On corn, that's the 240 bu. range. The beans look fantastic. They look good, but we'll see," he said.

Sousek is a little more optimistic. He's hoping to see yields above average.

"On an average year, we're looking at 140 bu. when it comes to corn. I think we will have that up to 170 bu. In the very ideal locations, it's maybe better than that. With soybeans, we could be at 50 to 60 bu. beans. The average is 40 to 42 bu.," said Sousek.

That makes it hard to sit back and watch the market, when their crops have potential.

"There's less opportunities to lock in a profit. Right now, better cover losses. Protect the bottom end," said Sousek.

With a little extra sunshine, their yield predictions could quickly become a reality.

"If we can get some heat, we will be on our way," said Kaliff.

Now even though it's warmed up, both farmers say their crop is still very wet. Sousek says right now he's guessing there's not a corn moisture sample below 30% in that area. Kaliff says he feels this could be a year where he turns on the dryer and never shuts it off.