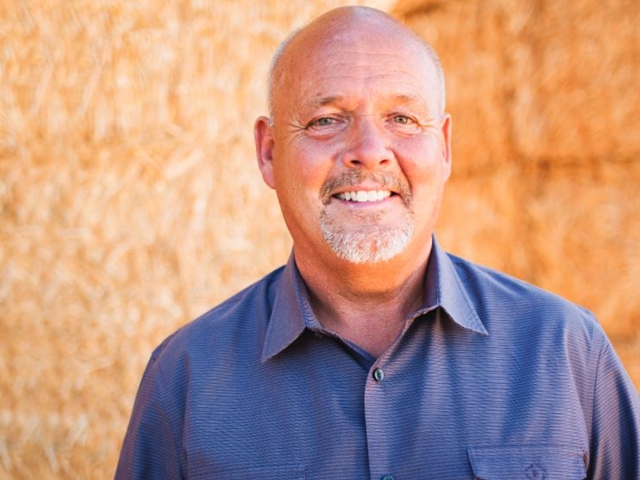 Straw market expertise indelibly links producer to Asian dairies, feedlots 
Stan Boshart built his career out of straw starting with a kiddie pool and three feuding friends.
The producer and father of five from Tangent, Ore., watched in 1986 as straw trucks rumbled past his home as he lay in 1-ft.-deep water with two of his young daughters. From an early age, he'd helped his dad farm the fertile Willamette Valley, and he'd grown into his own trucking business hauling just about everything from lime to lumber.   
Now he needed to stay close to home to raise his family, and he desperately wanted to farm again. 
"I wanted to touch that straw," explains Stan, 56.
Two years later, Stan's opportunity showed up outside his red office door in the form of three grouchy friends. He'd called a meeting with Richard Boshart, Stan's brother who is a local farmer; Joe, a farmer and baler; and Duff, a straw buyer. 
"Those three were frustrated with each other," Stan says. Richard needed the straw off his field; Joe hadn't been paid for his baling services; and Duff hadn't paid for the past year and didn't want to promise payment for the new year. 
One by one, Stan asked whether they'd be willing to work together. One by one, they refused. "When each one of those guys said 'No,' I was saying, 'Yes!'" he recalls.
So Stan offered to pay Joe to bale for Richard and to sell the straw to Duff. The three agreed. 
From Startup To Standout. Stan didn't know if straw would be profitable, but he needed the money. "I wanted a lot of work," he says.
Today, he manages a business with annual sales of more than $8 million alongside his wife, Lori, and daughter, Shelly Boshart Davis. The family operates four entities: Boshart Trucking, which ships straw; BOSSCO Trading, which handles international marketing and sales; PressCo, which manages pressing and container loading; and SJB Farms, where Stan grows grass seed, radish seed, wheat and hazelnuts. 
Over time, all five of Stan's kids, his brothers, sisters, nieces and nephews have worked for the family farm. This summer marked the first harvest with one of Stan's grandchildren operating a tractor. At peak capacity, their team uses 11 balers to custom harvest 25,000 to 28,000 acres owned by about 45 farmers, after which straw is baled, stored, pressed and packed into containers for shipment to dairies and feedlots in Japan and South Korea.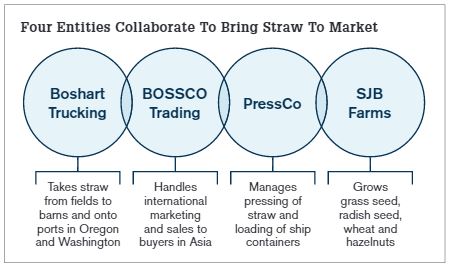 Stan's entrepreneurial development of the straw-harvesting market and his dedication to customer service are some of the many reasons he earned recognition as a 2015 Top Producer of the Year finalist. 
"We have watched Stan and Lori manage the business with not only what makes sense at the time but how will these decisions impact their business in the future, whether it is financially, managerially or for their customers," says Jeff Johnson, relationship manager with Northwest Farm Credit Services, Stan's lender for the past 15 years. 
Harvest Comes First. All operations lead up to summer. "To be ready for harvest is our No. 1 goal year-round," he says. The urgency of harvest proved especially true this year amid dry conditions. Less moisture meant an earlier and condensed harvest window of four weeks versus the typical five and a half.
The planning process begins in May, when the team—including Stan; Shelly, who is vice president of international sales; Eric Martin, operations manager; and Cassie Rugh, human resources and safety manager—put together a plan identifying needs for seasonal workers. Temporary employees include school bus drivers, teachers and teens. This year's harvest workforce totaled 85.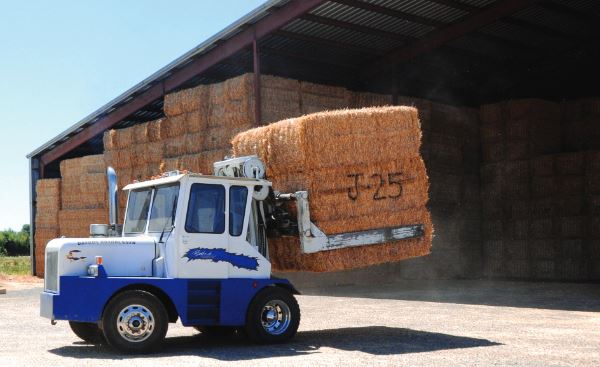 Boshart Trucking team member Oso Rodriguez moves bales into a barn. Bales are spray-painted with black letters and numbers to indicate the crew chief who helped harvest it and the number of the field from which it came. Photo: Nate Birt
---
Employing teens is a huge liability, Stan admits, but it enables young people to experience one of the toughest jobs they'll do while earning up to $12.50 an hour. Students complete a tractor safety course and undergo rigorous on-farm screening. 
"It's really important that young people are exposed to hard work," he says. "When we get done with them, they're qualified workers."
During harvest, mornings are spent greasing and oiling machines. Raking and baling begins once the dew dries. The team includes operations managers, crew chiefs, raker operators and baler operators.
Each of the operation's balers can make 400 to 600 bales per day for a total of about 5,500 bales per day. Each bale weighs between 1,000 lb. and 1,200 lb. For all 11 balers, Stan has built accumulators, shelf-like platforms that group and place bales on the ground simultaneously for efficient stacking and pickup. 
Stacked bales are taken from the field and placed onto a fleet of trucks, which put away an average of 60 loads per day into one of 14 barns. Each barn holds roughly 7,000 tons of straw. 
Ship Out. Straw is marketed internationally over the next 10 months. Because straw isn't a commodity, Stan doesn't do forward contracting. Overseas customers order straw as they need it. The Bosharts work directly with Asian dairy and beef farms with which they've cultivated relationships over the past 15 years.
Shelly joined the operation full-time nine years ago and has implemented systems to secure sales and nurture those relationships. 
"The marketing is really a negotiation between the customer and the supplier," Shelly says.  
That includes reassuring buyers that when straw color varies because of weather or field conditions, it remains of the same quality, she says.  
To Stan, straw is the equivalent of the potato in a steak-and-potato dinner. Cows need 2 lb. of daily protein and 15 lb. of roughage, the latter of which straw provides. It might not get the glory protein enjoys, but it remains a vital part of the diet. 
The price the Bosharts get for straw is determined by several factors. First is the yen-dollar exchange rate, which in late August stood at roughly 124 yen to one U.S. dollar. That has made U.S. straw less competitive than two years ago. 
Second are typhoons, which can damage Asian rice straw crops and drive purchases of U.S. straw higher. 
Shelly travels internationally one or two times each year and visits livestock operations as well as straw storage facilities to understand customers' needs. Stan's Willamette Valley-based PressCo business entity, which presses and packs straw for export, has several packaging types including sleeves and plastic straps. The business has changed the way it handles the crop to improve ease of unloading and stacking overseas. In the early 2000s, they expanded their farm office to two stories because buyers wanted evidence of the operation's successfulness. Stan bought a red Ford pickup and arrived at the airport before farm tours wearing a cowboy hat. "They feel like they are getting part of America for them to enjoy," he says. 
Although Shelly says people sometimes call her Stan—"so I must be doing something right"—she notes he has an innate ability to turn numbers into business decisions.
"He is able to see things that a lot of people can't," she explains.
Port To Orchard. Transportation problems outside of Stan's control dramatically changed shipment dynamics this past year. Moreover, the crop makeup of the valley is changing. Both factors have led Stan to critically assess how he will do business in the future.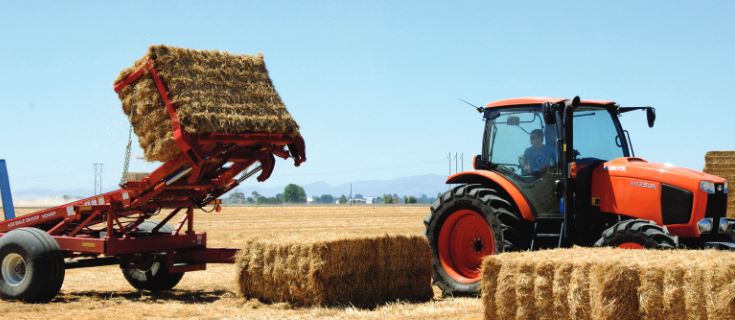 Team member bridger Martin, 14, uses a bale scoop to squeeze bales into a stack. Stacks are placed on the ground for loading. This marked the first year on the farm for Bridger, whose father is operations manager Eric Martin.
Photo: Nate Birt
---
On the transportation side, West Coast ports slowed down for months beginning in November during a contract dispute by longshoremen. The Bosharts paid thousands in unanticipated overtime for truckers and booking changes. 
It will take one to three years to determine whether the slowdown scared buyers into purchasing products from other locations. 
Consumer demands are also changing. Stan recognizes the region's farmers will potentially plant less rye grass for seed in the future, resulting in less turf seed and straw production. Grass seed remains valuable for cover crops and cattle pastures but is less sought out for lawns amid water scarcity concerns. As a result, Stan is planting hazelnuts to diversify his crop mix. They are growing in popularity as a health food, plus they "go into chocolate candy bars great," Stan says. 
In the past two years, Stan has planted 28 acres to hazelnuts. It will take four years for the trees to begin yielding enough to harvest with maximum yield at 12 to 13 years. 
Driven By Partnerships. In 1950, local farmers helped Stan's dad, Merrill, adapt to Oregon's agriculture and climate after relocating to the state. The Bosharts trace their roots to Nebraska corn and hog farmers. 
Although Stan says his dad never strived for financial success, he was a hard worker and someone who put his church and family first. Stan himself didn't always enjoy financial success, so he draws inspiration from his father's leadership and endurance. 
"I need a word that describes my first years of farming," Stan says.
"You mean broke?" Lori quips.
"Challenging is a very polite word," explains Stan, referring to the late '70s and early '80s. "They were awful. It was a test of endurance. It was like a seven-year marathon."
Today, Stan has forged close working relationships with buyers, local farmers and suppliers. He praises his local equipment dealership, Linn Benton Tractor Co., for its leadership under service manager Roy Garman and employees' ability to arrive on site to repair machinery within 15 minutes of a breakdown. 
"We have gained an appreciation of how Stan manages his operations through good times and when things are tough," Garman says. "His standards of excellence help in making well-informed decisions under any circumstance." 
Stan is particularly proud of his children, all of whom continue to live in the Willamette Valley. He says they have learned from his mistakes. "My children had to participate in my struggles simply by being children," Stan says. "Out of those struggles, just like I watched my dad and improved on his ideas, I hope the same for my kids." 
As a trucker and producer dedicated to the highest standards of excellence, Stan has become the engine that will drive the Bosharts' operation into the future.