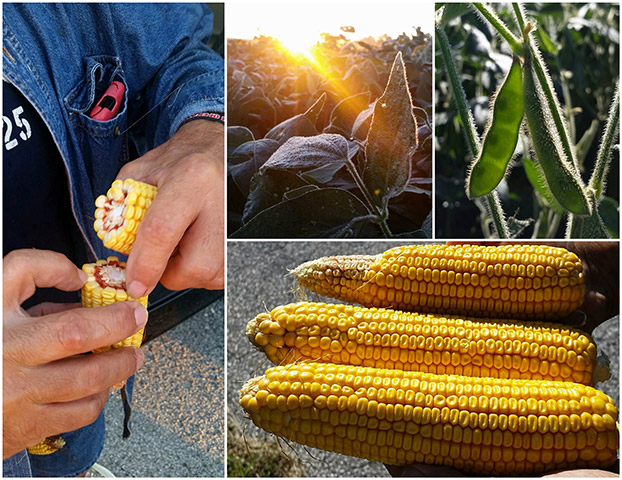 There's little argument that Indiana corn farmers have been in a bit of a slump. The Hoosier State saw corn yields clock in at 150 bu. per acre in 2015, with the three-year average slightly above that at 155 bu. per acre.
But is the state capable of higher yields in 2016?
Certainly Indiana has proved it can produce bin-busting corn crops in the past, and USDA has put its faith in a much bigger corn crop for 2016, providing an Aug. 1 estimate of 187 bu. per acre, a full 12 bushels higher than the agency's record-breaking 175.1 bu. per acre nationwide projection.
Meantime, Pro Farmer Crop Tour scouts scoured the state over a two-day period, collecting 163 samples in the process. Did their findings also point to "yield redemption?"
Yes – and no. The Crop Tour has estimated 2016 Indiana corn yields at 173.42 bu. per acre – a significant improvement over 2015 and three-year average tallies, but still lagging well behind the USDA estimate.
Scouts noticed the Indiana corn crop varied a bit by region.
"Yesterday in Indiana, we had a bit of a hangover from Ohio [which Pro Farmer projected  at 148 bu. per acre the day before]," says Indiana farmer and Crop Tour scout Steve Fellure. "The closer we got to Indianapolis, the corn crop picked up. Today, after the first couple of stops, it all picked up even more and became more uniform. With the stalk size and big corn ears with less tip back, you could just tell we were getting into some better corn."
Fellure's scouting group picked multiple 200 bu. samples, but scouts in other regions – the northeast corner of the state in particular – found significantly lower yields. The law of averages prevailed, settling in at the ultimate 173 bu. per acre estimate.
Kyle Wendland, for example, saw more tepid yields to the north. Wendland is a multiyear Crop Tour scout who farms in Iowa and South Dakota.
"We had nine stops in north Indiana, up towards Fort Wayne, with an average yield of 152," he says. "It was kind of rough and inconsistent."
As for Indiana's soybeans, DuPont Pioneer field agronomist Kelly Bassett warns, "Big beans do not always mean big yields."
That was certainly anecdotally true, as multiple Crop Tour scouts reported finding chest-high or even shoulder-high soybean fields with plenty of vegetative growth – just not equally impressive pod counts to match.
Instead, scouts found pod count more in line with the state's three-year averages. The Crop Tour measures yield potential by taking a comparative measure of pod counts within a 3ˈ x 3ˈ area. The 2016 results were 1,178.41 – higher than the three-year average of 1,166.34, but not significantly so.
"I saw pretty healthy beans," Fellure says. "But all of the bean fields we saw in both Indiana and Illinois have substantially good moisture. What that means to me is they have a chance for a really strong finish."
Can the Indiana corn and soybean crops finish strong and buck the recent trend of below-average yields? The state's growers don't have much longer to wait to find out.
For more information:
Be sure to follow AgWeb's coverage of Farm Journal Media's Pro Farmer Midwest Crop Tour. Watch reports from the field by following Farm Journal Media journalists along for the ride on Twitter: Alison Rice at @agweb_alison, Ben Potter at @potterben, Chip Flory at @ChipFlory, Brian Grete at @bgrete, and Betsy Jibben at @BetsyJibben. And check AgWeb each evening this week for the day's freshest summary on what they're seeing in the field.
Take your own field measurements and participate in Pro Farmer's Virtual Crop Tour.
Follow the Tour on Twitter with the hashtag #pftour16.