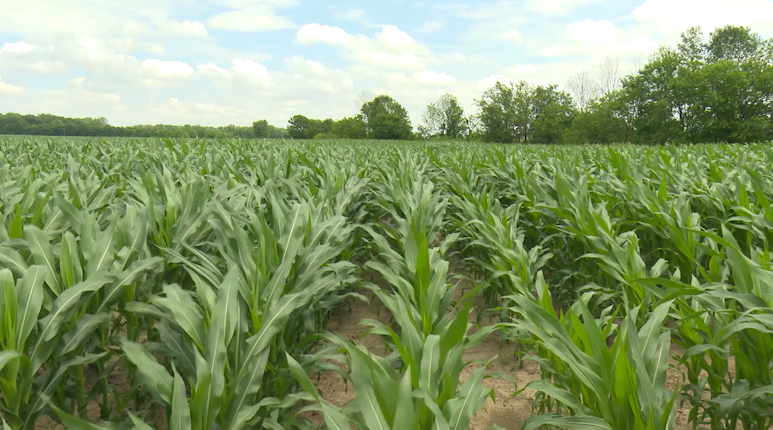 In the latest U.S. Department of Agriculture (USDA) report, corn conditions went up a few points in the "excellent" category. While that may be true, there's a lot of variability that seems extreme to have another record-setting crop in 2017.
According to Elaine Kub, author of Mastering the Grain Markets, this variability adds to the uncertainty into futures trading.
"If this was a definite drought at tasseling, we have a pretty good sense of how that affects yields," she told U.S. Farm Report host Tyne Morgan. "But wet roots, replanting, that's a lot harder to account for and how that's ultimately going to affect the yield."
Matt Bennett, owner of Bennett Consulting, farms in Windsor, Ill., 40 miles southeast of Decatur. Wet weather in the spring caused him to replant "a couple" times. Heading into the July 4 weekend, he's concerned with corn pollination.
"This crop is a little bit later, which also leads me to believe that if we do hit some sort of a hot and dry spell, we could be in for a major issue," said Bennett.
Dry weather took its toll on crops to drive the market. In the next two to three weeks, Kub believes there could be another weather scare.
"There is the possibility that in the next few weeks, weather could still be a driver and it could be explosive with that short covering," she said. "We do expect to see at least one good summer rally. The question is whether or not it's already behind us."
Ahead of Friday's acreage report, Bennett thinks soybeans could be an anchor.
"You're looking at a pretty serious chance for this market not only to recuperate what we've lost but to take a little bit higher than that on corn," he said. "The bottom line is, you take acreage and 89 [million acres of] corn with a hot, dry forecast, you're going to get an upward move."
Hear Bennett and Kub's full marketing discussion on U.S. Farm Report above.