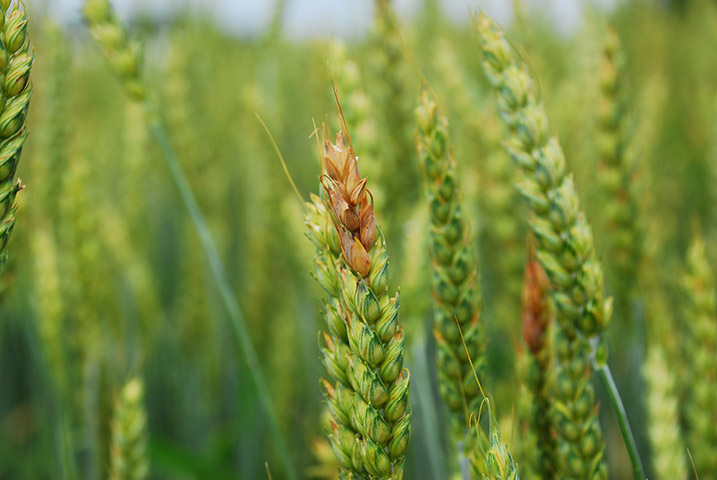 Deoxynivalenol – it's a mycotoxin in wheat that's hard to pronounce but easy to hate. Most wheat farmers just call it vomitoxin or simply "DON." And DON, which is caused by fusarium head blight, is rearing its ugly head once again this crop season. According to the online Fusarium Risk Assessment Tool, most of North Dakota, along with northern Minnesota, Wisconsin and Michigan, were at low-to-moderate risk of fusarium head blight as of Aug. 15 (the last date on which the center provided updates).
But since that time, plenty of anecdotal evidence from the fields suggests FHB is a problem that's worth monitoring. Several farmers noted on AgWeb's Virtual Wheat Tour that DON has been causing trouble. "Vomitoxin levels are high, and elevators are refusing to take the crop," says a farmer from Ward County, N.D. "Yields are also down significantly due to head scab."
Another farmer from Ransom County, N.D., says reports of DON levels from 5 to 7 parts per million (ppm) have been common. "Falling numbers are also a concern on the wheat that's been out in the field too long," he says. "The elevators are rejecting loads now."
Marketer Kevin Van Trump says it all adds up to the highest DON levels the industry has seen in nine years.
"Levels tested across nine states by U.S. Wheat Associates averaged 2.5 ppm and found they were worst in upper Midwest states, like Illinois where they were as high as 5.2 ppm," he says. "In fact, elevators in North Dakota have reported seeing levels that were 10 times higher than what's allowed by the USDA."
Van Trump adds that levels this high create a stressful scenario.
"Some elevators discount payments as much as $2 per bu. for vomitoxin levels between 6 ppm to 10 ppm," he says. "There is hardly anyone who will take wheat that tests above 10 ppm. Unfortunately, there is a lot of wheat above that level this year. It's so bad in North Dakota right now that grain elevators are telling farmers to just store their winter wheat until the market can figure out what to do with it."
University research suggests an integrated management approach works best when dealing with DON. Consider strategies that include crop rotation, resistant varieties, fungicides and even tillage to bury disease-ridden residue.
In the video below, University of Illinois Plant Director, Suzanne Bissonnette, demonstrates additional fusarium head blight diagnosis tips.
Wheat that contains miniscule amounts of DON can be used as a livestock feed. However, according to this North Dakota State University Q&A, the FDA has established the following limits:
• Beef cattle: 5 ppm
• Poultry: 5 ppm
• Dairy cattle: 2 ppm
• Swine: 1 ppm; do not feed to gestating or lactating sows or pigs that weigh less than 50 lbs
• Human food products: 1 ppm
For additional information, visit http://fyi.uwex.edu/fieldcroppathology/fusarium-head-blight-scab-of-wheat/.