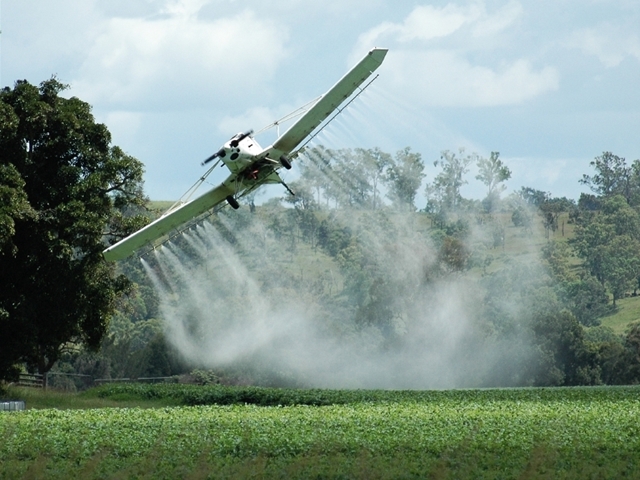 Hawaii lawmakers advanced a bill that aims to boost the regulation of pesticides, as residents expressed fears for their health and agriculture companies said that their industry is already regulated.
The bill would require large-scale commercial agriculture operations to disclose when they use pesticides and to observe buffer zones around sensitive areas like schools and hospitals. The proposal — SB 793 — drew about 400 testifiers to submit comments, mostly in support of the measure, said Sen. Josh Green, chairman of the Senate Committee on Health.
Proponents argue that they need to know what's being sprayed in their neighborhoods, particularly around fields used by seed companies, because they fear for their health and safety.
"As an educator and a mother, I am in fear of where I need to take my kids to school," said Chelsey Matsushima-Contrades, a resident of Anahola on the island of Kauai. "I'm not too sure where in Kauai we have these fields, and without the disclosure of whether or not you know they are surrounded by these fields, I don't know if I can trust where my kids go to school."
Farmers and representatives from seed companies at the hearing said that they already have controls in place and that they shouldn't be unduly targeted because the agriculture industry isn't the largest user of pesticides.
"All of our employees who work with pesticides receive extensive training," said Alan Takemoto, community affairs manager for Monsanto Hawaii. "We strive daily to provide safe environments for our employees and guests. We are very aware of our surroundings and take every measure to make sure our neighbors aren't impacted by our operations." said
Green said that more than 100,000 members of the public had come to lawmakers with concerns about pesticides.
"Do we not owe them attention and regulation, even if it is proven safe?" Green asked.
After a three-hour hearing on the proposal, members of three Senate committees meeting together voted to advance the bill late Thursday.
Employees from the seed companies who oppose enhanced pesticide regulations distributed papayas to lawmakers and Gov. David Ige before the hearing. There were about 150 employees at the capitol to raise awareness about the importance of agriculture and to put faces to the industry, said Bennette Misalucha, executive director of the Hawaii Crop Improvement Association, an organization that represents seed companies in Hawaii.
"We're very responsible about our use of pesticides," Misalucha said. "We bend over backward...Farmers have a love for the land, for aina, because they know the land is a finite resource, and so why would they not take care of the land?"
In a press conference, Gov. David Ige said he supports the idea of buffer zones.
"I do believe that the state has an obligation to regulate pesticides," Ige said, adding that the state needs to be more proactive and has an obligation to ensure the public's health.
The state is working hard to fill vacancies for inspectors in the Department of Agriculture, and Ige asked the director of agriculture to look at ways to use state lands as buffer zones, especially around schools and medical facilities, he said.
"We are moving forward from the executive side in trying to be sensitive to the concerns raised," Ige said.