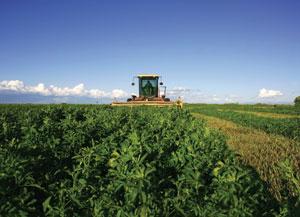 Hay prices and acreage will remain strong in 2014
Alfalfa and hay supplies are key this year—a building U.S. cattle herd, long-term diminishing forage acreage, water constraints in the West, drought and rising exports will support hay prices in 2014. But the declining cost of competing feeds and stronger hay production will weigh on prices long term.

While acreage for all hay could increase somewhat this spring, shifting to hay requires a multi-year commitment and large capital investment from farmers. That's one reason dairy producers east of the Mississippi River have reduced hay acres in favor of corn.

"We've seen a drop in hay acres over the last decade and an increase in corn silage, but I think that has stabilized," says Marvin Hall, forage agronomist at Penn State University. "Corn is easier to manage, and it only requires a one-year commitment.

Competition. "Acreage of alfalfa and other hays has declined in California," says Dan Putnam, Extension specialist at the University of California–Davis. "People are replacing agronomic crops with vineyards and tree crops, as well as growing corn and wheat in the short term due to water constraints."

According to USDA, 17.6 million acres of alfalfa were harvested in 2013, the second lowest figure on record, following 2012's 17.3 million acres. Acreage of all other hay has also been in a long-term decline, but that trend appears to be stabilizing. In 2013, producers harvested 56.6 million acres of all hay, up slightly from 2012 and 2011.

With corn prices nearly 40% lower than in spring 2013 and improvement in the Great Plains drought, analysts anticipate hay acreage will increase slightly in 2014.

"We came into 2014 with an acceptable supply of hay," says forage agronomist Dan Undersander with the University of Wisconsin Madison. "But as cattle herds rebuild, more hay will be needed in 2014. I expect hay acreage this spring to be up from 2013."

"If we have an average production year, no severe drought, hay production will be higher," Undersander says. "Producers in Minnesota and Wisconsin reseeded winterkill stands, so production on those stands will be higher."

Water woes. Acreage and production won't increase evenly across the U.S., though. The lack of water is a major risk factor in the West.

"Reservoirs are 10% to 30% of normal for this time of year," Putnam says. "Without additional rainfall through April, we will be faced with a severe shortfall of water."

While water shortages across the West could force producers to switch to less water-intensive crops, the dry conditions have already reduced the forage from grazing lands in some areas. Others have been more fortunate.

"In Kansas, there was little movement of dairy hay through November and December," says Steve Hessman, reporter for USDA's Hay Market News in Dodge City, Kan. "Numbers are down in the feedyards, and a lot of corn silage has been put up."

Feedlots are still feeding lower-cost cornstalks, distillers' grains and milo stalks instead of hay. "Cattle producers were forced to feed these lower-cost feedstuffs when alfalfa was tight," Hessman says. "They will look at putting alfalfa back into the ration once other feeds run out."

The hay market has also become increasingly global. In 2012, the U.S. exported more than 4 million metric tons of hay, double the exports made in 1999. Exports accounted for 4.5% of total U.S. production in 2012.

In the West, however, 12.5% of alfalfa was exported in 2012, and more than 30% of the grass hay produced in the West is shipped overseas.

"Assuming both increased production and demand in 2014, hay prices will remain strong, below the peak, but in a good range," Undersander says.