California dairies combine for manure-to-energy benefits

Today, it's just an empty, three-acre plot of dirt on the edge of Steve Maddox's dairy near Riverdale, Calif.

By next year, however, the site will be part of a major renewable energy project that will produce manure-generated biogas, not for Maddox's dairy but for use in California's extensive electricity grid.

Maddox Dairy is one of eight central California dairies partnering with Microgy, Inc., to generate methane-rich biogas to sell to Pacific Gas and Electric Company (PG&E), one of the state's three major energy utilities. Divided into three clusters, the eight dairies will eventually produce enough pipeline-quality renewable natural gas (RNG) to power 50,000 California homes. The project is expected to reap real benefits, including gas royalties and carbon credits, for its participants.

"First and foremost, this project makes sense financially," Maddox says. "I'm probably putting up $300,000, all told. With margins as tight as they are, there's not a lot of spare money to throw at new projects you're not sure of."

Microgy, a subsidiary of Environmental Power Corporation, will fund, build, own and operate anaerobic digesters at the dairies, using manure and other ag waste to generate the biogas. It expects to break ground for the digesters and necessary pipelines at the dairies late this year.

Microgy will also install and operate the scrubber, or centralized gas-conditioning unit, that makes the biogas acceptable for entering PG&E's pipeline system. In addition, the company will be responsible for pressurizing and injecting the gas into the pipeline and connecting it to the pipeline network.

In the Riverdale Cluster, Maddox Dairy milks 3,500 cows, as do neighboring producers John Verwey and Buddy te Velde, for a combined 10,500 milkers. Microgy will build five digesters among the three Riverdale dairies. Together, they'll generate an estimated 621,000 MMBtu, says Jeff Dasovich, Microgy senior vice president. (One MMBtu equals a million British thermal units.)

The other dairy clusters involved in the venture are Bar 20 in Kerman, the site of two dairies, 8,500 cows and four digesters, and the Hanford Cluster, with three dairies, 13,500 cows, and five digesters. They are expected to generate 601,000 MMBtu per year and 732,000 MMBtu per year, respectively.

The Riverdale, Bar 20 and Hanford projects have received financing and permitting approvals. In May, Microgy obtained a $65.35 million funding allocation for the Riverdale and Hanford Clusters. In July, it received an allocation for up to $26 million to support the Bar 20 project. The allocations came from the California Debt Limit Allocation Committee, a government body that issues tax-exempt bond financing. (Microgy plans a fourth California project with Joseph Gallo Farms, a large, multi-site dairy in Atwater. It's still in the permitting stage.)

For his part, Maddox will invest in two or three Honey-Vac units at a cost of about $70,000 each. The units will suction up fresh manure from freestalls into a tanker. The load will be transported to the methane digester, where it will be dumped and held for about 20 days. Microgy will reimburse the dairy for manure collection costs.

Each digester will separate liquids from solids and capture biogas. After it's been "scrubbed," the gas will be sent via Microgy's pipeline to connect with the natural gas network.

Microgy says its anaerobic digestion process will reduce odor and increase the value of the manure solids. As an added benefit, Maddox will keep the solids for use as stall bedding or to spread on his fields. "The solids that exit Microgy's digester will be extremely clean," he says.

The digesters at the dairies are expected to capture thousands of metric tons of greenhouse gas emissions each year. And that creates carbon credit value.

"A typical project producing 635,000 MMBtu per year could generate between 75,000 and 250,000 metric tons of greenhouse gas offsets, depending on a number of factors," says Mark Hall, senior vice president of Environmental Power Corp. "Those include the manure management practices in place at the dairies before our projects are built and the historic fate of the organic materials that we co-digest with the animal waste."

For Maddox, the project's ability to reduce greenhouse gas emissions can't be ignored. "Whether or not you agree with public opinion on global warming, the decision has already been made," he says. "We don't have enough dairy votes to change that. We must do our part. If the business model works, the environmental benefits are icing on the cake."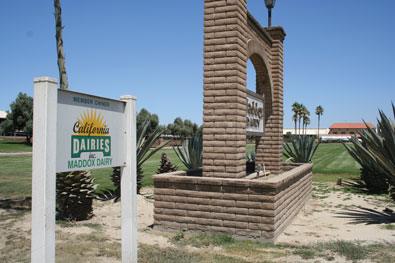 Maddox Dairy is one of eight dairies with more than 30,000 cows in three clusters which will generate nearly 2 trillion BTUs of energy annually.
POWER IN NUMBERS

Helping spur Microgy's manure-to-energy project is California's state mandate calling to derive 20% of its electricity from renewable energy sources by 2010.

That's driven the state's big utilities to look at alternative energy sources. They've never shown much interest in a single dairy's power-generating ability, but a cluster of dairies, totaling about 10,000 cows, is a different story.

An operation of that size can justify the cost of generating enough biogas to make a gas purchase agreement feasible. That's where Microgy and its dairy partners come in.

Microgy has a long-term gas purchase agreement with PG&E that calls for up to 8,000 MMBtu of renewable natural gas per day from the dairies. Dairy producer and project participant Steve Maddox says the utility will pay "enough so that we can afford to do this."

The agreement is "a small part of the overall picture for PG&E, but it's a first step in converting organic waste into energy," says Rod Boschee, business development manager in the utility's gas transmission and distribution group.

PG&E serves about 9.2 million gas and electric meters in northern and central California. The utility has a similar purchase agreement with BioEnergy Solutions for gas generated by California dairies.

PG&E is also working with Microgy to purchase renewable natural gas from the Huckaby Ridge dairy project near Stephenville, Texas, and transport it to California.
 
Bonus content: