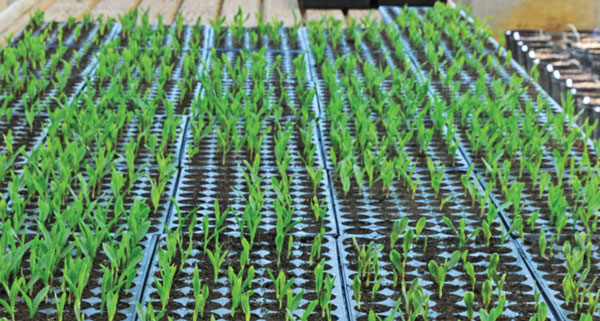 High nutrient levels help young crops handle stress 
What if you could look at a bag of corn, soybean or wheat seed and know the nutrients each kernel of seed contained before you purchased those hybrids and varieties for your farm? 

It might sound like a pipe dream, but it's not. Scientists are busy figuring out how nutrient levels impact crop productivity. Ismail Cakmak, professor of biological sciences and bioengineering at Sabanci University, Istanbul, Turkey, says seed-contained macro- and micronutrients are key factors affecting germination, seedling emergence, unifor-mity of emergence and yield. 

"Today, everybody analyzes soil samples and plant-leaf tissue to see the impact of soil fertilization, but no one pays attention to the seed nutrient profile," Cakmak says. "When seeds with low nutrient density are sown, the ability of the new crop to withstand environmental stress factors in the early growth stages is often impaired," he adds.

Cakmak was the keynote speaker for the inaugural Exceed the Seed Symposium, hosted by AgriThority this past winter. The organization is a global, science-based consultancy network of associates who work with companies in the crop protection and seed treatment industries. 
Cakmak spoke on "Valued Nutrition Starts with the Seed" and provided a number of examples demonstrating the importance of seed nutrients on crop performance outcomes. 

One of Cakmak's more controversial examples is the role of nitrogen (N) in soybean production. His research indicates that young legume plants often suffer from "obvious and hidden N deficiency" when grown in acidic soils or in soils with low inorganic N and organic matter.

"It is very common that legumes are rarely [fertilized with N] or at very low rates because the N2-fixation process provides sufficient N for  high  yields," he says. "However, the N2-fixation system is fully established four to five weeks after germination. During this period seed N reserves might be of great importance."

In addition, Cakmak's research shows that:
Soybean seeds with a low concentration of boron tend to have permanently damaged seed embryos, which can prevent germination or produce defective seedlings.
The availability of phosphorus very early in a wheat plant's development is more critical to helping farmers achieve good crop yields than the supply of phosphorus at later growth stages. 
Zinc also plays an important role in germination, seedling emergence and vigor for several crops, including canola, rice and wheat.

Adverse effects resulting from the lack of adequate seed-based nutrients cannot always be reversed with soil-applied nutrients, especially in the case of micronutrients, Cakmak adds. 

Improved food quality. Some seed industry members see an immediate opportunity to put Cakmak's research to work. 

"We're overlooking a lot of things in plant physiology that could better our seed production work and result in higher quality plants," acknowledges Mike Haedt, a partner in the Wisconsin-based Partners in Production. The company markets corn, soybeans, cover crops, alfalfa and products for enhancing forages.

"This is a whole new way to think about growing food," Haedt adds.

The potential for producing plants that contain more and better nutrients for human health is what drives much of Cakmak's enthusiasm for his seed nutrient research. 

Eventually, he expects the concept of fertilization for improved nutrient content of seed will be developed by the agriculture industry and used by farmers, much like advanced soil and foliar fertilization practices are used today.

Haedt says although seed nutrient values are not currently available on any production seed bag labels, he expects that could change as well.