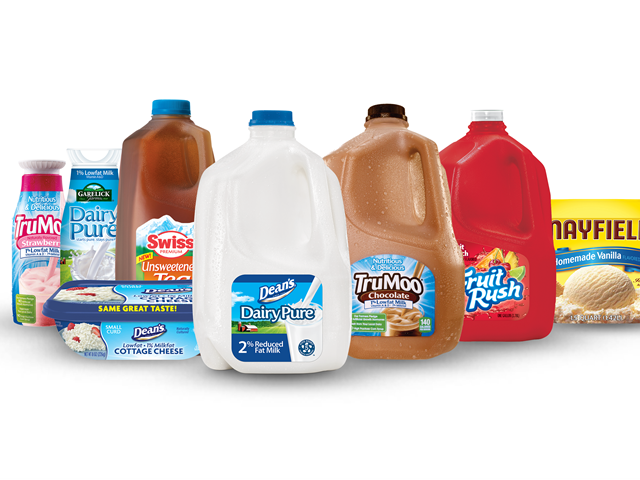 Dean Foods Co., the largest U.S. dairy company, is betting that the nation's thirst for alternatives to conventional milk is only going to get stronger.
The company is raising prices for its DairyPure brand of milk amid growing sales, according to a letter to customers obtained by Bloomberg News. A gain for sales would flout declining demand for the conventional beverage, which has pushed down those prices.
While DairyPure isn't organic, it contains no artificial growth hormones and was introduced by Dean in 2015 to capture demand from customers turning to rival products including organic milk as well as soy and other plant-based alternatives. U.S. per-capita consumption of conventional milk has declined for years partly as more buyers are seeking out beverages that they deem to be healthier. 
Dean Foods invested more than $20 million this year in DairyPure, according to the letter penned by Kurt Laufer, a senior vice president and chief customer officer. The letter was first reported on by The Milkweed, a monthly publication about the dairy industry.
"These investments have been gaining traction as DairyPure volume has increased, while our competitors' conventional white milk sales volume has declined," Laufer said in the letter.
Retailers that buy from Dean saw prices for DairyPure products go up by 16 cents for gallon containers and 13 cents for half gallons and quarts, according to the letter. The increases took effect Oct. 1. A spokesman for Dean Foods declined to comment on the letter.
The DairyPure brand accounted for about 10 percent of market share as of June, according to data from Bloomberg Intelligence.
"In order to continue the strong momentum and revitalization of the conventional white milk segment of the beverage category, we will be taking a pricing action," Laufer wrote in the letter that was dated Sept. 22.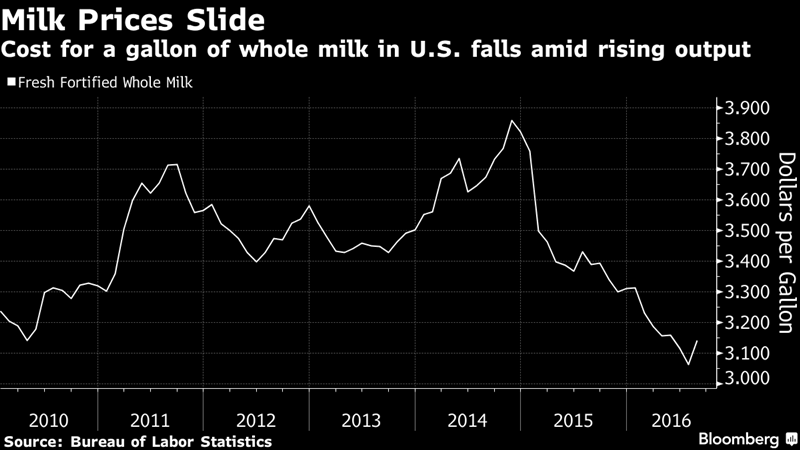 The increases for DairyPure prices defy declines for conventional milk, which have fallen amid rising output The cost for a gallon of whole milk at grocery stores declined 7.3 percent from a year earlier to $3.14 at the end of August, according to the most recent Bureau of Labor Statistics data.
At the same time, consumers are drinking less. In the four weeks ended Sept. 30, U.S fluid milk sales fell 5.2 percent from a year earlier, according to data from Chicago-based researcher IRI that was compiled by Bloomberg. By contrast, almond-milk sales grew 10 percent over the same period.
"Consumer demand is also weak, perhaps damped a bit by greater competition from plant-based milk substitutes and a proliferation of other beverage products, including yogurt drinks," said Kenneth Shea, an analyst with Bloomberg Intelligence. "Consumer demand for perceived healthier options to conventional milk is on the rise."