Irrigation use faces scrutiny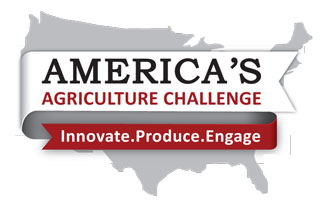 If Wisconsin manure irrigation were a category on TV's "Jeopardy," the lead answer might read: Cows get credit for fueling this nutrient-delivery system, but these two concerns put it on the map. 

The question, "What is the risk of pathogen drift?," is the focus of a $338,000 state-funded research project amid citizen complaints and research pointing to possible health risks from airborne pathogens and tainted wastewater.

"What we're trying to do is create a foundation for developing uniform standards or recommendations," says Andrew Craig, statewide nutrient management specialist with the Wisconsin Department of Natural Resources (DNR). 

Only Idaho and North Carolina have evaluated the intersection of manure irrigation, water quality and public health to date. Permits and setbacks are required in many states to minimize odors.  

At the epicenter of the debate on manure irrigation is Kewaunee County, which has 42,000 milking cows within just 342 sq. miles, says Aerica Bjurstrom, agriculture agent for dairy production and management with the University of Wisconsin Extension. The high volume of manure output combined with terrain susceptible to leaching can contribute to water pollution.

Scientists led by University of Wisconsin biowaste specialist Becky Larson and USDA-Agricultural Research Service research microbiologist Mark Borchardt are working to calculate microbial risk on fields in several locations.

"We actually measure pathogen drift in the field. Then we'll build a transport model, which feeds into a risk assessment, so we can determine—based on real data—what the risk of infection is at certain distances away from an irrigation unit that is applying manure," Larson explains. Data are gathered from participating farms. Ongoing work will focus on a more detailed understanding of the model components using tracer studies and wind tunnels to evaluate specific parameters. 

Meanwhile, agricultural producers are meeting regularly with manure-irrigation opponents, scientists, medical professionals and state officials as the Wisconsin Manure Irrigation Workgroup. They will review published literature and quantitative data about manure irrigation and public health, help craft and evaluate data from the DNR-funded research, draft recommendations, and present the draft to the DNR and the public in early 2015.  

"We have a good group of people who are passionate about the broader issues and also their own issues and concerns," explains Ken Genskow, group chair. "We have tried to focus our discussion on issues rather than pro or con positions." 
Prevalence and Concerns. The conversation about manure irrigation in Wisconsin began in earnest three years ago when concerned citizens called foul on plans for manure irrigation at a proposed dairy. 

Vocal opposition continues today with groups such as Kewaunee Cares, spurred on by sizable manure spills in the region in the past decade. The group now has representation in the workgroup that aims to reach consensus on best practices. 

"I don't disagree with what these concerns are," Bjurstrom says. "Everybody has the right to clean air and clean water."

Only a handful of large Wisconsin dairies use manure irrigation, Craig says, and only on a few fields. That's because they have two resources many farms don't—adjoining cropland and capital to invest in tools that help reduce risks for surface or groundwater contamination.

Manure irrigation can help limit nutrient runoff risk by targeting application to crops during the growing season. Manure can be applied raw or as a liquid pre-treated in a digester to reduce pathogens, and sunlight is an effective tool for killing additional pathogens.

At the same time, emerging research suggests caution is in order. A 2013 study of select Pennsylvania medical patients found an association between proximity to crop fields applied with swine manure and antibiotic-resistant bacteria MRSA, along with skin and soft-tissue infection. 

Although troubling, the study should be read with caution because there are still many unanswered questions, Craig says. Researchers explain the study only indicates a correlation, and correlations can have different strengths. In addition, statistical correlations do not imply causation. This means while swine manure might be linked to MRSA, it is not necessarily the cause. There might be other factors that are not understood and may warrant additional investigation.

"We have discussed this study at the manure irrigation workgroup. It doesn't show the pathway for how it's occurring, whether aerial or some other way, and it doesn't show what the risk is compared to what," he says. "There's no benchmark."
Fact-Finding Mission. To help farmers manage nutrients in a sustainable way while keeping the public out of danger, DNR is taking a number of steps. 

Research by Larson and her colleagues will make recommendations for setback distances that could be established to minimize the risk of infection from E. coli 0157H7, salmonella, giardia and other pathogens. "If risk comes back to be higher than what the work group indicated as acceptable, we would recommend that this is a technique that shouldn't be used," she explains. 

More likely is that researchers will recommend specific management practices, such as maximum wind velocities, to maintain risk below accepted values. Funding obtained in the future could be used to measure the impact of manure irrigation relative to traditional ground application or manure storage.

Going forward, researchers such as Eric Cooley hope to partner with Wisconsin farmers to test both types of manure irrigation on an array of land types, from heavy clay to sand. 

"There is no perfect system, and there are always benefits and drawbacks with each type of manure application system when it comes to water quality," says Cooley, co-director, University of Wisconsin Discovery Farms.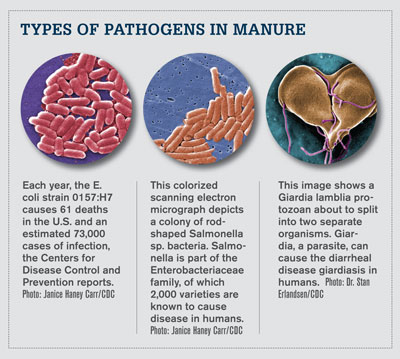 Manure Irrigation Setbacks In Wisconsin
Assuming compliance with other applicable laws, Wisconsin concentrated animal feeding operations (CAFOs) can use manure irrigation on fields provided they are part of a DNR-reviewed and approved nutrient management plan and that applications are:
1,000 ft. from municipal wells
500 ft. from homes, measured from the nearest edge of application
250 ft. from drinking water wells
100 ft. from direct conduits to groundwater
---
Farm Journal Media's advocacy series, America's Ag Challenge, provides information about external influences such as overreaching regulations, policymakers, courts and activists that impact their operations—and potentially endanger the future of their farms. The multimedia editorial campaign educates and motivates farmers to interact with legislators, regulators and consumers to help them understand why agriculture needs the resources and runway to maximize productivity, exercise stewardship and secure our food supply.