Cotton loves hot weather, but when temperatures get extreme, the crop often goes on strike. In fact, when temperatures in the leaf canopy of the cotton plant average above 82ºF, the plant begins to experience heat stress, says Paul Brown, University of Arizona Extension specialist. Above 86ºF, the plant goes into severe heat stress and reproduction declines.

Quite often, plants will abort flowers, squares or small bolls. Occasionally, locks in the bolls will not have seeds because of the lack of fertilization.

The result is reduced lint yields, delayed crop maturity and lower fiber quality. USDA–Agricultural Research Service (ARS) and university scientists as well as private breeders across the Cotton Belt are developing cotton lines that have higher levels of tolerance to heat stress. Planting seed for new heat-tolerant upland, Acala and Pima varieties could be available to growers within three years.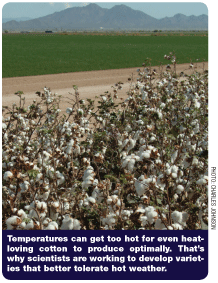 Cool technology. Richard Percy notes that heat stress occurs in cotton plants at some point every season in the humid Deep South and in the dry desert West. Now research leader of the Crop Germplasm Research Unit in College Station, Texas, Percy previously was assigned as a cotton breeder at the USDA–ARS Plant Physiology and Genetics Research Unit located in Maricopa, Ariz.

He explains that when temperatures in the leaf canopy of cotton are below 82ºF, the stomata, or pores on the underside of the leaves, are open and evapotranspiration is taking place to keep the leaf temperature cool. When temperatures rise, these stomata close, and the leaves heat up.

When that happens, the plant goes into survival mode, shutting down the photosynthesis that produces the energy to grow and produce fruit.

Under these conditions, the plant will divert energy to preserve itself at the expense of fruit production.

Pick and choose. Selecting plant material for heat tolerance is no simple task, Percy says, because there are many factors involved. Researchers relied on a combination of techniques.

One was to measure the degree to which stomata closed down when plants were subjected to heat stress. Lines that kept their stomata open under heat stress showed higher heat tolerance than those that closed down. Percy explains that these lines were not really more heat-tolerant but were heat-avoiding—they actually cooled their leaves. Another technique was plant mapping—checking the first and second fruiting positions on the plant and equating fruit retention or loss to heat stress.

"We found a fairly good relationship between pollen sterility and yield," Percy says. "Pollen sterility is very pronounced at temperatures above 82ºF. One of the most successful techniques was to put plant materials into a heat-stress environment—under field conditions—and see how they performed. It's not an elegant technique, but it works."

The research team has released several heat-tolerant Pima germplasm lines, which commercial breeders are using to develop varieties that can withstand extreme temperatures.

Three upland germplasm lines were released in 2006 and are currently being tested by university breeders in Georgia, Louisiana and South Carolina.

PhytoGen Cottonseed is one of several companies focused on developing better heat-tolerant cotton varieties. "We have an active upland breeding program in Mississippi as well as a western research program for Acala and Pima cotton varieties in California," says Joel Mahill, senior scientist for PhytoGen.

"We expect to have varieties with excellent levels of heat tolerance available for growers within three years," Mahill says. "In addition, we are continuing to evaluate advanced elite lines that are near variety status and also screening germplasm and incorporating even higher tolerance into our genetic breeding pool at our Maricopa research station."

Mahill says good levels of heat tolerance should be the basis for upland, Acala and Pima varieties with potential for 6% to 10% greater yields.