Heat indices reaching into the 100°-plus range in early August and staying warm during the nighttime hours made it hard for corn ears to rest overnight, preventing kernels from filling out to the end of the ear and dampening yield potential. The official Pro Farmer yield estimate for corn is 164.1 bu. per acre nationally. This estimate should amount to a total crop of 13.29 billion bushels. The total crop estimates are figured using USDA's harvestable acreage number in the Aug. 12 Crop Production Report of 81.005 million acres. By comparison, USDA's Aug. 1 yield estimates were 165 bu. per acre, with total crop at 13.365 billion bushels.
"This was the most mature crop we've probably ever tested on the Pro Farmer Midwest Crop Tour," says Chip Flory, Pro Farmer editor. "But there is no denying this a large crop. If we could have just gotten another ¼" on the grain length, that would have made a world of difference."
Pro Farmer estimates have a margin of error of plus or minus 1%, but Flory says there is little upside potential to this crop because it is so mature.
Soybeans are expected to increase nearly a full bushel compared with 2009. The 2010 Pro Farmer production estimate for soybeans is a yield of 44.9 bu. per acre. If realized, this will produce a crop of 3.5 billion bushels. There is a margin of error in these numbers of plus or minus 2%.
"I don't believe you can argue that we have a very good bean crop," Flory says. The biggest question for the soybean crop remains in Iowa, where sudden death syndrome (SDS) is the most prevalent, he says. Iowa is the swing state, and if disease pops up and really damages the crop, yields will be at the lower end of the spectrum, Flory says. If it doesn't, yield could easily move higher. Flory adds: "There was just no denying there were a lot of pods out there and we're looking at a big bean crop."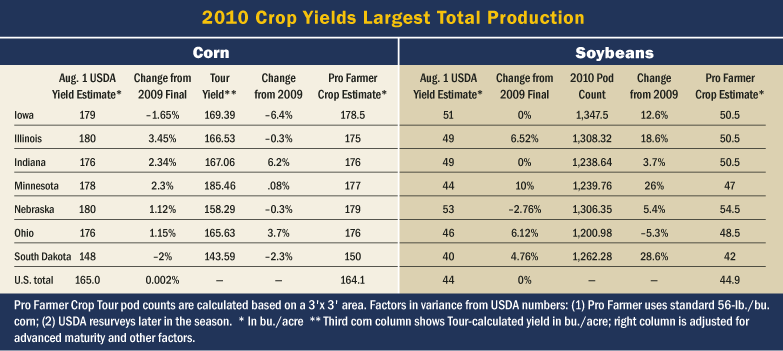 —Greg Vincent
---
Top Producer, September 2010