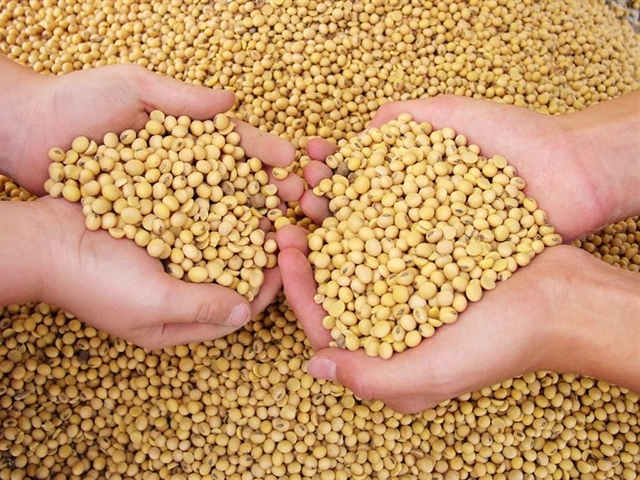 Hedge funds cut bullish wagers on soybeans as forecasts for record global inventories sparked the biggest price slump in more than six months.
U.S. farmers will reap their biggest-ever harvest and domestic stockpiles last month were the highest since 2006, government data show. That's adding to a global glut that will swell global inventories to an all-time high and money managers are now the least bullish on prices since October.
Surging supplies of grain, crude oil and metals drove the Bloomberg Commodity Index of 22 raw materials to a 12-year low last week. Ample supply is keeping global food costs in check, with a gauge of world prices tracked by the United Nations reaching a four-year low last month.
"It's all about fundamentals, and at the moment we have enough," Mayer Cherem, who helps manage $9.5 billion as the head of opportunistic investments at Pacific Alternative Asset Management Co., said by phone Jan. 14. "There is a lot of downside from here for soybeans, and there will be a continuation of the downtrend. The picture is bleak."
Soybean futures fell 5.7 percent last week in Chicago, the most since July. The Bloomberg Commodity Index dropped 0.3 percent, an eighth consecutive decline that was the longest run of losses since 2001. The MSCI All-Country World Index of equities retreated 0.5 percent, and the Bloomberg Dollar Spot Index slid 0.2 percent.
Trading Commission
The net-bullish position in soybeans tumbled 66 percent to 14,520 futures and options in the week ended Jan. 13, U.S. Commodity Futures Trading Commission data show.
Domestic production will reach a record 3.969 billion bushels (108.01 million metric tons) in the season that started Sept. 1, the U.S. Department of Agriculture said Jan. 12. World reserves in August will reach 90.78 million tons, up from 66.16 million a year earlier, the agency said.
While the USDA also expects supplies to climb in Brazil, the second-biggest producer, dry weather can still hurt crops before farmers begin the harvest in February.
Rainfall in December was "well below normal" in major growing areas, Oil World, a Hamburg-based researcher, said last week. Precipitation in the first 20 days of this month also will be less than average for several areas, and soil in Argentina's Cordoba province is too dry.
A measure of net-long positions across 11 agricultural products declined 9.4 percent to 454,395 contracts, the lowest in six weeks, the CFTC data show. Corn wagers fell for a third week, the longest streak since August. U.S. inventories of the grain on Dec. 1 reached a record for the date, the government said Jan. 12.
West Texas
Combined net-wagers across 18 U.S. traded commodities dropped 2.7 percent to 768,982 contracts, the government data show. That's the lowest since Dec. 2.
Bets on higher prices for West Texas Intermediate climbed 12 percent to 224,032 contracts. Prices rose 0.7 percent last week, the first gain since November, after the International Energy Agency lowered forecasts for supplies from outside OPEC. Futures fell 1 percent to $48.19 a barrel in New York today.
The net-bullish position in gold rose 7.5 percent to 114,728 contracts, the highest since August. Prices jumped 5 percent last week, the most since July 2013, as turmoil in European currency markets spurred demand for the metal as a haven. The Swiss central bank unexpectedly abandoned the franc's cap against the euro on Jan. 15.
"When you have any big surprises in the market, there is a flight to safety," Lara Magnusen, who helps manage about $2.5 billion as a portfolio strategist at Altegris Investments Inc. in La Jolla, California, said by phone Jan. 15. "While the long-term fundamentals for gold have not changed, concern about Europe has kept gold supported."